Mike, Jenny and Cindy got together for their first Pierce's Playground episode. In today's show they talk: Drake & Future mixtape, JJ Watt, Game of Thrones, Rihanna VS Taylor sweet beef, Megan Fox, relationships, gossip news, sex and more.
Find them online at:
Jennyfly on Instagram, Twitter and SnapChat
CindeeBabe on Instagram, Twitter and SnapChat
Mikethemovieguy on Instagram and Twitter. LIKE on Facebook.com/iwatchmike
If you find an interesting story online – please send them the link to mike@iwatchmike.com
Thanks for sharing, liking and listening!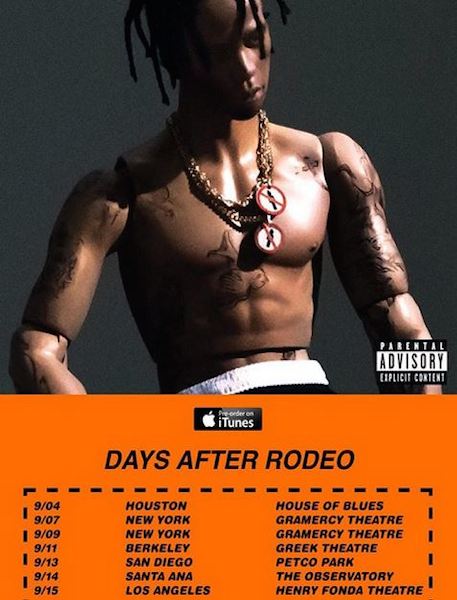 Travis Scott announces his seven-day tour. Due to take off on the release date of his highly anticipated album, Rodeo dropping September 4th. Travis Scott will be hitting a town near you, be sure to grab your tickets!
FURIOUS 7  HITS THE STREETS WITH WAZE FOR GROUNDBREAKING PROMOTION TO LAUNCH HOME ENTERTAINMENT RELEASE  
Navigation App Gives Drivers the Fastest Route
To Locate Free Furious 7 Merchandise in Seven Cities
Universal City, California, August 25, 2015 –Universal Pictures Home Entertainment (UPHE) is leveraging Waze (http://www.waze.com), the real-time crowd sourced navigation app, to promote the home entertainment release of global blockbuster Furious 7. "Get your Furious 7 Fix Fast" is a first-of-its-kind promotion that will allow Waze users in seven cities to find Prizing Pit Stops giving away free Furious 7 merchandise. UPHE will release Furious 7 on Digital HD starting today and on Blu-ray™, DVD and On Demand on September 15.

From today through September 17, Waze will display scheduled messages announcing the release of Furious 7 on Blu-ray™, DVD and Digital HD in seven participating markets. On one day in each market, Waze users can also find directions to pop-up venues where street teams will be distributing free Furious 7 branded T-shirts, hats, license-plate frames, and a limited number of digital codes to download the film on Digital HD, among other items. Each Prizing Pit Stop will operate while supplies last for up to 90 minutes and then move on to two other spots throughout the day.
– – – – –
Prizing Pit Stops will take place on the following days:
Friday, Sept 11:  Portland & Dallas
Monday, Sept 14: San Francisco & Washington, D.C.
Tuesday, Sept 15: New York & Los Angeles
Thursday, Sept 17: Chicago
– – – – –
The promotion, which marks the first time Waze has partnered with a home entertainment distributor, will be supported by local cable and radio mentions in the participating markets and through Waze's social media posts.

"We're excited to team with Waze, one of the top navigation apps, to excite fans for the release of Furious 7," said John Morici, UPHE Managing Director, US & Canada. "This is an innovative promotion that uniquely engages audiences with an app that has become indispensable to millions of commuters."
About Furious 7
Vin Diesel, Paul Walker and Dwayne Johnson lead the returning cast across the globe in the Extended Edition of their most gravity-defying and emotional adventure yet. Targeted by a cold-blooded black-ops assassin with a score to settle (Jason Statham), their only hope is to get behind the wheel again and secure an ingenious prototype tracking device. Facing their greatest threat yet in places as far away as Abu Dhabi and as familiar as the Los Angeles streets they call home, the crew must come together once again as a team, and as a family, to protect their own.
About Waze
Waze is the social navigation pioneer, leveraging mobile technology and a passionate global community to redefine expectations of today's maps. Waze is home to the world's largest network of drivers who work together daily to outsmart traffic and save time and money. The app consistently recommends the fastest routes based on real-time driving and data from more than 50 million users. From traffic reroutes to low gas price alerts and relevant offers from favorite brands, Waze is one of the most comprehensive driving companions in the marketplace. To download the free Waze app for iOS or Android, visit http://www.waze.com.
About Universal Pictures Home Entertainment
Universal Pictures Home Entertainment (UPHE) is a unit of Universal Pictures, a division of Universal Studios (www.universalstudios.com). Universal Studios is a part of NBCUniversal, one of the world's leading media and entertainment companies in the development, production, and marketing of entertainment, news, and information to a global audience. NBCUniversal owns and operates a valuable portfolio of news and entertainment television networks, a premier motion picture company, significant television production operations, a leading television stations group, world-renowned theme parks, and a suite of leading Internet-based businesses. NBCUniversal is a subsidiary of Comcast Corporation.
Check it out movie fans!! Tomorrow is National Twins Day and well…I received a 'special' delivery this morning…
HOW FREAKING AWESOME IS THIS?! (I bet my neighbors were like WTF??!)
These twins delivered a 'special' box…do you see the image on the  box? It's freaking BUGHUUL!!! A pagan Babylonian deity, who would kill whole freaking families…then take one of their children into HIS scary ass realm where he'd consume his/her soul.
SOOOO AWEESSOMMMMEEEE!! (unless I was apart of that dead family)
"What was in the box you ask!?"
Do you have Netflix I do? Are you thinking of getting Netflix? Well, I got some news for ya. A lot of stuff is coming in the month of August. A LOT…
NARCOS
Season 1 – 8/28/15
I'm really excited for NARCOS people. I really am
– – – – – –
CLUB DE CUERVOS
Season 1 – 8/15/15
But wait…there's more…
NETFLIX ORIGINAL SERIES FOR KIDS
PROJECT Mc2
SEASON 1
8/07/15
DINOTRUX
SEASON 1
8/14/15
EVER AFTER HIGH: WAY TOO WONDERLAND
SEASON 3
8/14/15
INSPECTOR GADGET
SEASON 2
8/28/15
TWISTED TALES & HILARIOUS HUSBANDS
REAL HUSBANDS OF HOLLYWOOD
SEASON 3
8/19/15
ONCE UPON A TIME
SEASON 4
8/28/15
REVENGE
SEASON 4
8/28/15
WHEN DARKNESS FALLS
SORORITY ROW
8/01/15
THE WOMAN IN BLACK 2: THE ANGEL OF DEATH
8/12/15
BYZANTIUM
8/27/15
SUMMER VACATION ANIMATION & MORE
DANIEL TIGER'S NEIGHBORHOOD
SEASON 2
8/01/15
MASHA & THE BEAR
SEASON 1
8/01/15
ODD SQUAD
SEASON 1
8/01/15
READING RAINBOW
VOLUME 1
8/01/15
GIRL MEETS WORKD
SEASON 1
8/23/15
– – – –
You can always see more at:
XFINITY OFFERS TAYLOR SWIFT BEHIND-THE-SCENES TOUR CONTENT AND EXPERIENCES AS PART OF "THE 1989 WORLD TOUR" SPONSORSHIP
Comcast's XFINITY Brand Becomes Lead Sponsor of All U.S. Tour Dates
Customers Get Access to Behind-The-Scenes Videos, Plus Chances to Win Tickets, Meet & Greets, Backstage Tours, and Tour Merchandise
Comcast today announced that the company's Xfinity brand will become the lead sponsor of Taylor Swift's The 1989 World Tour, offering its customers benefits such as access to behind-the-scenes video footage from tour rehearsals as well as the chance to meet the seven-time Grammy winner and win backstage tours, tour merchandise and concert tickets.

Xfinity will become the lead sponsor of all U.S. tour dates on The 1989 World Tour, starting on May 20 in Bossier City, LA and ending on October 31 in Tampa, FL.

"Taylor Swift is a global superstar and her fans have an unrivaled passion for everything she touches," said Todd Arata, VP, Brand Marketing, Comcast Cable. "And now, Xfinity and Taylor Swift are coming together to bring Taylor fans an experience they can't get anywhere else."

As a part of the sponsorship, Xfinity will build an unprecedented Xfinity On Demand experience including videos that give viewers a backstage pass to what goes into preparing for each show of The 1989 World Tour. Customers also will get On-Demand access to a curated collection of movies, TV shows and talk show appearances featuring Taylor as well her music videos.

"Throughout the tour we'll also surprise fans with ticket giveaways, signed merchandise and more,  including a lip sync competition among fans for the chance to meet Taylor herself," added Arata.

At each U.S. concert venue, Xfinity will host a backstage "vibe room" where select Xfinity customers and concertgoers will have an opportunity to go on backstage tours and attend a meet-and-greet with Taylor. At select tour locations, the brand will also create an "Xfinity Zone," where concertgoers will have an opportunity to experience the best of Xfinity, including the X1 Entertainment Operating System. Visitors can also have fun with a photo booth that enables fans' photos to be super-imposed onto backgrounds featuring the singer.

Xfinity is Comcast's residential service brand and the nation's largest video and high-speed Internet provider and more information about the Taylor Swift sponsorship can be found at xfinity.com/1989.
Check this out folks…sounds pretty cool!!
COMCAST CUSTOMERS CAN NOW "SHARE" LIVE STREAMS TO THE TV
New Xfinity Share App Lets X1 Users Live Stream Video and Send Photos and Recorded Videos to Each Other in Real Time
Comcast today announced that Xfinity customers on the X1 Entertainment Operating System can now live stream their favorite life moments over the Internet from their smartphone to the television to share with friends and family.  Through the company's new Xfinity Share app, customers can live stream or send photos and recorded videos to their TV, or to the TV of another X1 customer, as well as live stream and share content to mobile phones.

To use Xfinity Share, currently both the sender and receiver must be Xfinity Triple Play customers with X1 DVR capable set-top boxes.

"We're giving our customers the power to share special moments in their lives as they happen," said Patti Loyack, Vice President of Communications, Comcast Cable.  "Whether a child's baseball game, a graduation or just a beautiful sunset, Share lets users broadcast whatever they see in real time to the biggest screen in the home.  So now a grandmother in San Francisco can watch along on her TV at the exact moment her grandson in Philadelphia blows out his birthday candles."

To stream to the TV, users just need to follow these simple steps: open the Xfinity Share app, select "Stream Live" and accept the notification that appears on the TV.

The Xfinity Share app is available to download for free from the Apple Store for iOS devices or from Google Play for Android devices.  The app leverages WebRTC, an open Internet standard that supports real-time communication over Web browsers.  Comcast is one of the first companies to optimize this technology for the TV.

"WebRTC is a powerful technology that we're bringing to the TV," said Franklyn Athias, Senior Vice President, Comcast IP Communications Services.  "WebRTC and X1 are a natural fit.  The most advanced television entertainment operating system and the most flexible real-time communications tool combine to offer a cross-platform, multimedia experience like no other.  We're connecting customers to whom and what they love in more ways than ever."

Later this year, additional features will be added to Share including the ability to:

– – – – –

Share content with virtually anyone by sending a URL via email

Send content to up to five people at the same time

Stop, pause and rewind the live stream

Store the live stream in the X1 Photos app

– – –

Any photos or recorded videos sent from Xfinity Share are stored in and accessible via the X1 Photos app. Customers can turn off share notifications in the Photos app as well.
READY TO MAKE EVERY PRINCESS' FAIRY TALE COME TRUE, 2015 DISNEY ROYAL BALL QUINCEAÑERA DRESS COLLECTION BY ASHDON INC. IS NOW IN STORES
New Line Features 13 Gowns Inspired By Beloved Disney Characters, Including a New Design Channeling the Classic Tale and Live-Action Film "Cinderella"
LOS ANGELES, CA — April 23, 2015 — On the stroke of midnight, the spell will be broken, and everything will be as it was before, but not this time.  Ashdon Inc., a leading force in the bridal and formalwear industry, today announced that the 2015 Disney Royal Ball Quinceañera dress collection is now available in-stores nationwide.  Featuring thirteen exquisite gowns channeling treasured Disney characters, the highly anticipated line includes a new design inspired by Walt Disney Studios' live-action film, Cinderella, as well as a new gown for "La Corona de la Princesa."

"Combining elements of fantasy and magic to deliver a fairy tale experience like no other, the Disney Royal Ball Quinceañera dress collection was created with young Latinas in mind," said Nick Yeh, CEO of Ashdon Brands. "These stunning Quinceañera gowns are not only perfect for fans of the timeless tale of Cinderella, but also give every Latina the opportunity to celebrate and channel the inspiring and enchanting strong qualities of their favorite Disney characters on their special day."

Available in a variety of vibrant colors, glorious treatments and creative embellishments, young Latinas celebrating their Quinceañeras can now choose from any of the following Disney Royal Ball Quinceañera gowns, including:

Cinderella – Inspired by Cinderella's graceful elegance, this timeless gown brings the magic of the ballroom to life, with embellishments including glamorous draping and delicate beadwork.
Anna – Featuring contemporary "Rosemaling" (decorative painting), beadwork and graceful symmetry, this gown captures Anna's warmth and exuberance, while shimmering with a natural and organic elegance.
Elsa – Inspired by snow and ice, this gown celebrates Elsa's magical powers with its dramatic palette of icy blues and deep purples that deliver a cool elegance reminiscent of the beauty that sets in eternal winter.
Ariel – Cascading waves of organza ruffles and oceans of jewels pay tribute to Ariel's courageous yet free-spirited nature.
Belle – Versailles-inspired beadwork and sophisticated silhouettes pay tribute to Belle's elegance, intelligence and beauty.
Jasmine – A whole new world awaits with this exotic gown's shimmering beadwork and beautiful silhouette that celebrates Jasmine's bold and adventurous spirit.
Mulan – This Chinoiserie-inspired organza ball gowns capture Mulan's heroic spirit and valiant heart.
Pocahontas – Inspired by Pocahontas' courageous heart and love of nature, this gown celebrate the beauty of the earth and sky, with cascading ruffles and elegant draping, adorned with dazzling beadwork.
Rapunzel – A tribute to Rapunzel's passion and artistic spirit, the cap-sleeve, organza ball gown features exquisite beading and a skirt inspired by organic, hand-rolled flowers, while the strapless style features a ruffled detachable skirt.
Sleeping Beauty – As alluring and beautiful as Aurora herself, this dreamy gown features a sweetheart neckline, delicate beadwork and whimsical skirt.
Snow White – Inspired by the compassionate nature and grace of Snow White, this stunning gown makes a graceful yet dramatic statement.
Tiana – This enchanting gown captures Tiana's confident attitude and independent spirit, and is perfect for masquerading across the dance floor in a dazzling New Orleans style.
Corona de la Princesa – A special edition addition to the Disney Royal Ball Quinceañera Collection, this gown's ornate details celebrate being the ultimate princess.

The 2015 Disney Royal Ball Quinceañera dress collection is available at specialty and formal wear retailers across the U.S. and Canada. Dresses are available in sizes 0-30 with MSRPs ranging from $530-$999.

Designed and brought to life in collaboration with Disney Consumer Products, the Disney Royal Ball Quinceañera dress collection debuted in 2013 as the first ever line of Quinceañera gowns inspired by the inner qualities, personalities and stories of the Disney Princess characters.

For more information on the 2015 Disney Royal Ball Quinceañera collection and retail outlets, please visit www.QuinceRoyalBall.com.

About Ashdon, Inc.
Housed under the Ashdon brand umbrella are the highly regarded Victor Harper, Cristiano Lucci and Yumi Katsura Couture Collections whose brand is recognized on the same level with the world's most prestigious fashion trademarks. Best recognized for their glamorous Simone Carvalli and Impression Bridal lines, Ashdon, Inc. is a leading force in the bridal and formal-wear industry. Ashdon's collections extend with evening gowns, special occasion and bridesmaid dresses, Quinceañeras, mothers of the bride and teen prom lines, such as Xcite, Xtreme and Q by DaVinci. No stranger to the celebrity world stars such as Mariah Carey, Sofia Milos, Michelle Rodriguez, Faith Hill, Selena Gomez, Ashley Greene and The Bachelor's Tara Durr all have worn gowns from one of their collections on the red carpets and down the aisle. Ashdon Brand's gowns have been featured in Life & Style, the Teen Choice Awards as well as top-rated shows such as The Vampire Diaries, The Price Is Right, and on Tyra Banks' America's Next Top Model. For more information on Ashdon, please visit www.Ashdonbrands.com.
Check this out folks – could come in handy for you or someone you know.
In the wake of the devastating earthquake that shook Katmandu, Nepal this past weekend, Comcast is offering free calls to Nepal from April 25 through May 31.

Below please find the official statement on behalf of Comcast:

By Patti Loyack, Vice President of Broadband Voice

Our hearts go out to all those impacted by the devastating Earthquake in Katmandu, Nepal – the victims, their families and their loved ones. During this extremely difficult time, we want to help our customers unite with their families and friends in the aftermath. Therefore, Comcast will provide free calls to Nepal for our more than 11 million Xfinity Voice residential customers.

This will apply to all calls made to Nepal by customers between April 25 through May 31. Credits and waived fees will be automatic and no action will be required by customers.

We will continue to keep all those impacted by this tragic event in our thoughts and prayers and wish them strength during these trying times.
Link to blogpost: http://corporate.comcast.com/comcast-voices/comcast-offers-free-calls-to-nepal
In 1999, it was The Blair Witch Project. In 2009, it was Paranormal Activity. In 2015, a new film will revolutionize horror. Universal Pictures presents Unfriended.

Directed by Levan Gabriadze and written by Nelson Greaves, Unfriended follows a group of high school teenagers haunted by the spirit of their dead friend on the one-year anniversary of her tragic suicide. The movie is set as one long, terrifying Skype chat in which a group of teens are terrorized by the spirit of their former friend, who committed suicide after an embarrassing video of her was posted online. At first they think it's a prank, but when the girl starts revealing the friends' darkest secrets, they realize they are dealing something or someone that wants them dead.

I had the opportunity to interview Greaves about the origins of Unfriended and how the initial story came together.
As the writer, it was a challenge to come up with material that was compelling enough without having to resort to multiple locations. "I approached this as I was writing a play… and the sort of the same logic questions and challenges that come up were going to be things we were going to be tackling," Greves said. "At the same time, we also see the benefits of the play. You don't think about anything else. It's just the characters. It's just the world. If you can convince people to buy into that then you can have something that's much more dramatic than throwing chainsaws…"

Each actor was assigned their own room in the house where the movie was shot and spent long days going through the entire script in one take. The technical crew designed a system where the actors could all see and hear each other, as well as hear direction from the directors. The filming process was far from typical. The entire movie was shot on GoPro cameras to make it look like an actual video chat. "I thinking liberating is the best way to describe (the filming process). We are actors that come from improv backgrounds. I've worked in TV and film and you're really not allowed to do that a lot of the time," Courtney Halverson stated.
Overall, Unfriended is a horror film very of its time. It premiers in theaters April 17.

"We weren't setting out to tell a digital horror story. We weren't setting out to tell a story about digital relationships. We set out a story about the way people live now," Greaves said.