Check it out movie fans!! I got some pretty cool news…especially if you're a fan of ICE AGE!
A NUTTY THANKSGIVING
ICE AGE'S SCRAT IS SET TO TAKE FLIGHT IN THE 89TH ANNUAL MACY'S THANKSGIVING DAY PARADE®
New giant character balloon celebrates next summer's animated motion picture event "Ice Age: Collision Course," from 20th Century Fox and Blue Sky Studios

NEW YORK, NY – October 22, 2015 –        The world's most beloved acorn-loving movie star is having the best National Nut Day ever, as Ice Age's Scrat celebrates his debut as a giant character balloon in the 89th Annual Macy's Thanksgiving Day Parade® this November. Star of the blockbuster Twentieth Century Fox/ Blue Sky Studios' "Ice Age" film franchise, Scrat, will be transformed into a ballooning behemoth, chasing a colossal acorn down the Parade route and into the hearts of millions of fans this holiday season.
"Ice Age's rambunctious Scrat is sure to be a giant balloon fans of all ages will go nuts for!" said Amy Kule, Executive Producer of Macy's Thanksgiving Day Parade. "A comically whimsical creation, we are thrilled to welcome Scrat and his acorn to the giant balloon line-up of this year's Macy's Parade. Our team and millions of Ice Age fans lining the streets of New York City and in homes across the country will be cheering Scrat on as we wait to see if he catches the ultimate treat on Thanksgiving Day."
"We can't think of a better way to celebrate a global icon such as Scrat then immortalizing him in one of the most beloved and cherished American events, the Macy's Thanksgiving Day Parade," said Zachary Eller, Senior Vice President, Marketing Partnerships, 20th Century Fox.  "From the moment we began discussing a way for our Ice Age herd to participate, we knew that Scrat chasing that just out-of-reach acorn was the only possible idea!"
Transformed into massive prehistoric proportions in front of more than 3.5 million spectators and over 50 million television viewers nationwide, Scrat will measure approximately, 59-feet long, 24-feet wide and 41-feet tall.  Always focused on the hunt and chasing his favorite snack, he is posed ready to pounce on the 21-foot tall acorn that is just slightly out of reach. And what a treat it would be, as it would take more than 15 million real acorns to fill Scrat's helium version!
The 89th Annual Macy's Thanksgiving Day Parade airs nationwide on NBC-TV, on Thursday, November 26, 2015 from 9 a.m. – noon in all time zones. Twentieth Century Fox Pictures/Blue Sky Studios "Ice Age: Collision Course" will be released worldwide in Summer 2016.
About the Macy's Thanksgiving Day Parade:
With more than 50 million viewers across the country and more than 3.5 million spectators that line up along the streets of New York City each year, the Macy's Thanksgiving Day Parade is a national icon that has grown into a world-famous holiday event. For almost 90 years, the Macy's Thanksgiving Day Parade has marked the official start of the holiday season. Growing in size and scale, the Parade proudly marches down a more than 2-mile route in New York City with more than 8,000 participants in tow including Macy's employees, their families, celebrities, athletes, clowns and dance groups spreading holiday cheer. The Parade also features America's best marching bands, fabulous floats and Macy's signature giant helium character balloons.  For more information on the Macy's Parade please visit www.macys.com/parade or call the Parade hotline at (212) 494-4495.
About Twentieth Century Fox Film:
Twentieth Century Fox produces, acquires and distributes motion pictures throughout the world. These motion pictures are produced or acquired by the following units of the studio:  Twentieth Century Fox, Fox 2000 Pictures, Fox Searchlight Pictures, Fox International Productions, and Twentieth Century Fox Animation/Blue Sky Studios.
***FOR IMMEDIATE RELEASE***
EL REY NETWORK TO HOST WORLD TELEVISION PREMIERE OF
ROOSTER TEETH'S HIT ANIMATED WEB SERIES "RED VS. BLUE"
THIS DECEMBER
CAPTION: L to R – Burnie Burns (Rooster Teeth Co-Founder and Chief Creative Officer), Robert Rodriguez (Creator, Director and El Rey Network Chairman), and Matt Hullum (Rooster Teeth Co-Founder and CEO). Photo: Kurt Volk/El Rey Network
Austin, TX — Thursday, November 5, 2015 — El Rey Network will bring the award-winning, longest running sci-fi/comedy series in history, Red vs. Blue, to television for the first time. Premiering December 5th on El Rey Network, all 13 seasons of Rooster Teeth's Red vs. Blue have been lovingly and carefully curated and formatted from the original digital shorts into 95 half-hour episodes, which will air weekend mornings from 6:00am to 10:00am ET/PT.
"I've been wanting to carve out an animated component to El Rey's lineup and this was just the perfect fit for the network. Red vs. Blue is cool, quirky, badass and a little off-beat," said El Rey Network Founder and Chairman Robert Rodriguez. "It's a truly groundbreaking machinima series, with a strong focus on quality writing and pioneering motion capture techniques. I can't wait for the El Rey Network audience to check out."
"As young independent filmmakers starting out with no crew but a huge desire to make original content, Robert was a huge inspiration. So it seems incredibly fitting that Red vs. Blue will now have a home on El Rey Network," said Rooster Teeth Founder and CEO Matt Hullum. "It's the perfect fit for our brand of action, comedy and general animated mayhem."
Based on the award-winning Halo® video game franchise, Red vs. Blue is a hilarious and action-packed series set in the distant future that tells the story of two groups of soldiers battling for control of the least desirable piece of real estate in the known universe – a box canyon in the middle of nowhere. Premiering in 2002, Red vs. Blue continues to grow as both a global entertainment phenomenon and popular staple of the Halo universe as it enters its 14th season.
"Red vs. Blue embodies the irreverent humor that lurks beneath Halo's sci-fi universe but also the creativity that is at the heart of our franchise," said Kiki Wolfkill, Studio Head of Halo Interactive Entertainment and Channel. "Rooster Teeth is a pioneer in web entertainment and machinima with Red vs. Blue, and we consider the series to be an important part of Halo's history and future. It combines the best of Halo gaming with Rooster Teeth's edgy humor on a network renowned for high-quality, exciting content."
To find El Rey Network in your area please check out the channel finder at ElReyNetwork.com.
El Rey Network social media:
Facebook: facebook.com/ElReyNetwork
Twitter: twitter.com/ElReyNetwork
Instagram: instagram.com/ElReyNetwork
YouTube: http://www.youtube.com/ElReyNetwork
Google+: https://plus.google.com/+ElReyNetwork
Rooster Teeth social media:
Website: RoosterTeeth.com
Facebook: facebook.com/RoosterTeeth
Twitter: twitter.com/RoosterTeeth
Instagram: instagram.com/RoosterTeeth
YouTube: youtube.com/RoosterTeeth
About Rooster Teeth
Rooster Teeth is a pioneering creative production studio responsible for award-winning online videos such as "Red vs. Blue," the longest-running web series in history; globally acclaimed animated series "RWBY;" comedy gamer series, "The Gauntlet;" comedy series "Rooster Teeth Shorts;" and "Immersion," a show that tests video game concepts in the real world. Rooster Teeth founded and operates "Achievement Hunter," the popular gaming website, and produces the award-winning "Rooster Teeth Podcast," voted Best Gaming Podcast at the 2013 Podcast Awards. With a dedicated worldwide fan community, Rooster Teeth created RTX, an annual gaming and Internet convention held in Austin, TX, which attracts tens of thousands of gamers, online video fans and Rooster Teeth community members from around the world. The Rooster Teeth YouTube channel became the 4th most viewed YouTube channel in the world (non-music) in 2013. The Rooster Teeth multi-channel network has over 19 million YouTube subscribers and more than 5 billion views, and the Rooster Teeth website has 3 million unique monthly visitors with 1.8 million registered community members. Founded by Matt Hullum and Burnie Burns, Rooster Teeth is a subsidiary of Fullscreen, Inc., a global media company that develops online creators and produces multi-platform entertainment experiences. Discover more at http://www.roosterteeth.com.
About El Rey Network
El Rey Network is a 24-hour English language network founded by maverick filmmaker Robert
Rodriguez. Curated by Rodriguez and his artistic collective, the network unites the most culturally diverse generation in history through fearless, badass and original content that awakens the renegade in everyone. The network's action-packed content is anchored by original signature dramas, feature films, grindhouse genre, cult classic action, and horror/sci-fi.
El Rey Network LLC (www.elreynetwork.com) is jointly owned by Robert Rodriguez and FactoryMade Ventures with a minority stake held by Univision Networks & Studios, Inc.
Omar Chaparro and Bruno Bichir Launch One Rooster's Fighting Career in The Hit Film from the Popular Huevos Franchise Arriving on Digital HD November 17
On DVD and On Demand December 1
SANTA MONICA, CA (October 14, 2015) – The first-ever wide release of a Spanish-language animated franchise cracks into homes when Un Gallo con Muchos Huevos arrives on Digital HD on November 17 and DVD and On Demand on December 1 from Lionsgate Home Entertainment. Just in time for the holidays, the hilarious Un Gallo con Muchos Huevos features the voice talents of Omar Chaparro (Pulling Strings), Bruno Bichir (Netflix's "Narcos"), Angélica Vale (TV's "No Me Hallo") and Maite Perroni (TV's "Cuidado con el Angel") as young rooster Toto and his friends step into the ring to save the farm they love. Based on the hit Mexican animated franchise, Huevos, the egg-citing adventure will also be available for the first time in an all-new English version voiced by an all-star cast titled Huevos: Little Rooster's Egg-cellent Adventure exclusively on DVD, Digital HD and On Demand.
Toto (voiced by Bruno Bichir) is the kindest rooster in the henhouse, but when the evil landlord of the farm he lives in threatens to destroy his family and home Toto is forced to become a brave rooster. That's when Toto and his friends (Voiced by Angelica Vale, Maite Perroni, Omar Chaparro, Ninel Conde, Carlos Espejel) join forces in an egg-cellent adventure that teaches us that the big surprises can come in small packages.
The home entertainment release of the knockout family adventure features two behind-the-scenes featurettes. While Un Gallo con Muchos Huevos and Huevos: Little Rooster's Egg-cellent Adventure  will each be sold separately on Digital HD and On Demand, the DVD version will include both the Spanish and English versions of the film. The Huevos: Little Rooster's Egg-cellent Adventure DVD will be available for the suggested retail price of $19.98.
DVD/ DIGITAL HD SPECIAL FEATURES*
Behind-the-Scenes Featurette (English cast version)
Behind-the-Scenes Featurette (Spanish cast version)
*Subject to Change
KRAMPUS, the upcoming film from Universal and Legendary Pictures, which hits theaters Friday, December 4, first scared up major heat on social media when its official trailer was released in late summer. And now, a time when many of us are scrambling to find the perfect Halloween costume, a look at some of the biggest trending topics of the year may provide some inspiration. Below are six costume ideas based on social media trending topics that are sure to make you the talk of the town this Halloween.
– – – – – – – –
DONALD TRUMP. Like him or not, the Donald is quite popular these days and will no doubt inspire a legion of wannabes.
Source: Twitter – @ComplexMag
– – – – – – –
POPE FRANCIS. The polemic and admired religious leader is among the year's most popular and talked about figures, especially after his recent visit to the U.S.
Source: Twitter – @ComplexMag
– – – – – – – –
KRAMPUS. What's scarier than Santa's long lost demonic sidekick that snatches kids away for being naughty? Inspired by the film of the same name due in theaters December 4, which is based on a Nordic legend featuring a half goat, half demon, horned Christmas monster, don't miss your opportunity to scare the KRAMPUS out of everyone.
Source: Instagram – Legendary
– – – – – – – – –
MINIONS. Having caused havoc at the box office this summer and soon available on DVD, we can never get enough of these silly, banana loving creatures.
Source: Twitter – @ComingSoon.net
– – – – – – – – –
STAR WARS. As fans anxiously await the theatrical release of The Force Awakens, this coming December 18, celebrate your favorite character and show that the force is with you.
Source: Twitter – @StarWars
– – – – – – – –
NEW YORK PIZZA RAT. It's not a man. It's not a plane. It's a rat and he wants his fare share. This humble rodent captivated us all and lit up social media when a video of him carrying a huge slice of pizza down the stairs at a NYC subway was posted online.
Source: Twitter – @NewYorkPizzaRat
Provided by Jesus of ThisFunktional.com
Stand with Puerto Rico by signing this White House petition and sharing it on social media
White House Petition on Puerto Rico:
100,000 signatures are needed to force the White House to respond
Puerto Rico faces its worst economic crisis in more than a century due to a $72 billion debt burden that is unpayable. If Puerto Rico is unable to restructure its debts, the island will descend into an economic crisis that will wipeout savings, pensions and compromise its economic viability for generations to come.
President Obama must act decisively to help the 3.5 million American citizens living in Puerto Rico.
Continue reading →
Mike, Jenny and Cindy got together for their first Pierce's Playground episode. In today's show they talk: Drake & Future mixtape, JJ Watt, Game of Thrones, Rihanna VS Taylor sweet beef, Megan Fox, relationships, gossip news, sex and more.
Find them online at:
Jennyfly on Instagram, Twitter and SnapChat
CindeeBabe on Instagram, Twitter and SnapChat
Mikethemovieguy on Instagram and Twitter. LIKE on Facebook.com/iwatchmike
If you find an interesting story online – please send them the link to mike@iwatchmike.com
Thanks for sharing, liking and listening!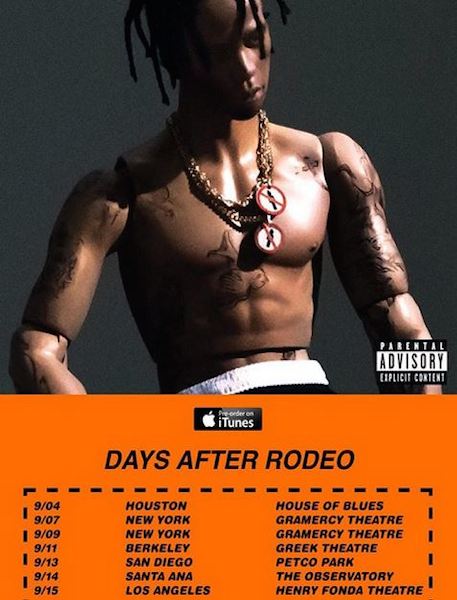 Travis Scott announces his seven-day tour. Due to take off on the release date of his highly anticipated album, Rodeo dropping September 4th. Travis Scott will be hitting a town near you, be sure to grab your tickets!
FURIOUS 7  HITS THE STREETS WITH WAZE FOR GROUNDBREAKING PROMOTION TO LAUNCH HOME ENTERTAINMENT RELEASE  
Navigation App Gives Drivers the Fastest Route
To Locate Free Furious 7 Merchandise in Seven Cities
Universal City, California, August 25, 2015 –Universal Pictures Home Entertainment (UPHE) is leveraging Waze (http://www.waze.com), the real-time crowd sourced navigation app, to promote the home entertainment release of global blockbuster Furious 7. "Get your Furious 7 Fix Fast" is a first-of-its-kind promotion that will allow Waze users in seven cities to find Prizing Pit Stops giving away free Furious 7 merchandise. UPHE will release Furious 7 on Digital HD starting today and on Blu-ray™, DVD and On Demand on September 15.

From today through September 17, Waze will display scheduled messages announcing the release of Furious 7 on Blu-ray™, DVD and Digital HD in seven participating markets. On one day in each market, Waze users can also find directions to pop-up venues where street teams will be distributing free Furious 7 branded T-shirts, hats, license-plate frames, and a limited number of digital codes to download the film on Digital HD, among other items. Each Prizing Pit Stop will operate while supplies last for up to 90 minutes and then move on to two other spots throughout the day.
– – – – –
Prizing Pit Stops will take place on the following days:
Friday, Sept 11:  Portland & Dallas
Monday, Sept 14: San Francisco & Washington, D.C.
Tuesday, Sept 15: New York & Los Angeles
Thursday, Sept 17: Chicago
– – – – –
The promotion, which marks the first time Waze has partnered with a home entertainment distributor, will be supported by local cable and radio mentions in the participating markets and through Waze's social media posts.

"We're excited to team with Waze, one of the top navigation apps, to excite fans for the release of Furious 7," said John Morici, UPHE Managing Director, US & Canada. "This is an innovative promotion that uniquely engages audiences with an app that has become indispensable to millions of commuters."
About Furious 7
Vin Diesel, Paul Walker and Dwayne Johnson lead the returning cast across the globe in the Extended Edition of their most gravity-defying and emotional adventure yet. Targeted by a cold-blooded black-ops assassin with a score to settle (Jason Statham), their only hope is to get behind the wheel again and secure an ingenious prototype tracking device. Facing their greatest threat yet in places as far away as Abu Dhabi and as familiar as the Los Angeles streets they call home, the crew must come together once again as a team, and as a family, to protect their own.
About Waze
Waze is the social navigation pioneer, leveraging mobile technology and a passionate global community to redefine expectations of today's maps. Waze is home to the world's largest network of drivers who work together daily to outsmart traffic and save time and money. The app consistently recommends the fastest routes based on real-time driving and data from more than 50 million users. From traffic reroutes to low gas price alerts and relevant offers from favorite brands, Waze is one of the most comprehensive driving companions in the marketplace. To download the free Waze app for iOS or Android, visit http://www.waze.com.
About Universal Pictures Home Entertainment
Universal Pictures Home Entertainment (UPHE) is a unit of Universal Pictures, a division of Universal Studios (www.universalstudios.com). Universal Studios is a part of NBCUniversal, one of the world's leading media and entertainment companies in the development, production, and marketing of entertainment, news, and information to a global audience. NBCUniversal owns and operates a valuable portfolio of news and entertainment television networks, a premier motion picture company, significant television production operations, a leading television stations group, world-renowned theme parks, and a suite of leading Internet-based businesses. NBCUniversal is a subsidiary of Comcast Corporation.
Check it out movie fans!! Tomorrow is National Twins Day and well…I received a 'special' delivery this morning…
HOW FREAKING AWESOME IS THIS?! (I bet my neighbors were like WTF??!)
These twins delivered a 'special' box…do you see the image on the  box? It's freaking BUGHUUL!!! A pagan Babylonian deity, who would kill whole freaking families…then take one of their children into HIS scary ass realm where he'd consume his/her soul.
SOOOO AWEESSOMMMMEEEE!! (unless I was apart of that dead family)
"What was in the box you ask!?"
Do you have Netflix I do? Are you thinking of getting Netflix? Well, I got some news for ya. A lot of stuff is coming in the month of August. A LOT…
NARCOS
Season 1 – 8/28/15
I'm really excited for NARCOS people. I really am
– – – – – –
CLUB DE CUERVOS
Season 1 – 8/15/15
But wait…there's more…
NETFLIX ORIGINAL SERIES FOR KIDS
PROJECT Mc2
SEASON 1
8/07/15
DINOTRUX
SEASON 1
8/14/15
EVER AFTER HIGH: WAY TOO WONDERLAND
SEASON 3
8/14/15
INSPECTOR GADGET
SEASON 2
8/28/15
TWISTED TALES & HILARIOUS HUSBANDS
REAL HUSBANDS OF HOLLYWOOD
SEASON 3
8/19/15
ONCE UPON A TIME
SEASON 4
8/28/15
REVENGE
SEASON 4
8/28/15
WHEN DARKNESS FALLS
SORORITY ROW
8/01/15
THE WOMAN IN BLACK 2: THE ANGEL OF DEATH
8/12/15
BYZANTIUM
8/27/15
SUMMER VACATION ANIMATION & MORE
DANIEL TIGER'S NEIGHBORHOOD
SEASON 2
8/01/15
MASHA & THE BEAR
SEASON 1
8/01/15
ODD SQUAD
SEASON 1
8/01/15
READING RAINBOW
VOLUME 1
8/01/15
GIRL MEETS WORKD
SEASON 1
8/23/15
– – – –
You can always see more at: