Dressed in black, wearing a black leather Nets hat, a few gold chains and armed with an arsenal of almost 20 years of music, Jay-Z did what he does best; preform hit, after hit, after hit opening night of his Magna Carter World tour in St. Paul.
SET LIST:
"U Don't Know"
"Crown"
"On to the Next One"
"Holy Grail"
"Fuckwithmeyouknowigotit"
"Beach Is Better"
"99 Problems"
"Picasso Baby"
"Dead Presidents II"
"Pound Cake"
"No Church in the Wild"
"Tom Ford"
Timbaland Interlude
"Somewhere in America"
"Big Pimpin'"
"Jigga What, Jigga Who""Dirt Off Your Shoulder""I Just Wanna Love U (Give It 2 Me)"
"N***s in Paris"
"PSA"
"Clique"
"Run This Town"
"Encore"
"Empire State of Mind"
"Izzo (H.O.V.A.)"
"Hard Knock Life"
"Young Forever"
Produced by Boi-1da, Jordan Evans & Matthew Burnett, here's Drizzy's "Pound Cake/Paris Morton Music 2″ featuring Jay-Z.
Jay-Z is kicks off the American Tour of his 'Magna Carter' World tour November 30th in St. Paul Minnesota and stop on January 31st in State College, PA. Find the city closest to you and make plans to check this show out.
Tickets on sale on September 12th through Livenation & Ticketmaster.
TOUR DATES:
November 30th St. Paul, MN Xcel Energy Center
December 1st Lincoln, NE Pinnacle Bank Arena
December 2nd Denver, CO Pepsi Center
December 6th Anaheim, CA Honda Center
December 7th San Diego, CA Valley View Casino Center
December 9th Los Angeles, CA Staples Center
December 10th Fresno, CA Save Mart Center
December 11th San Jose, CA SAP Center at San Jose
December 13th Las Vegas, NV Mandalay Bay Events Center
December 18th Oklahoma City, OK Chesapeake Energy Arena
December 19th Houston, TX Toyota Center
December 20th San Antonio, TX AT&T Center
December 21st Dallas, TX American Airlines Center
December 27th Atlanta, GA Philips Arena
December 28th Birmingham, AL BJCC Arena
January 2nd Ft. Lauderdale, FL BB&T Center
January 4th Charlotte, NC Time Warner Cable Arena
January 5th Greensboro, NC Greensboro Coliseum Complex
January 8th Cleveland, OH Quicken Loans Arena
January 9th Chicago, IL United Center
January 10th Detroit, MI The Palace Of Auburn Hills
January 12th Brooklyn, NY Barclays Center
January 13th Brooklyn, NY Barclays Center
January 16th Washington DC Verizon Center
January 17th Uncasville, CT Mohegan Sun Arena
January 18th Boston, MA TD Garden
January 19th Uniondale, NY Nassau Coliseum
January 21st Pittsburgh, PA CONSOL Energy Center
January 22nd Newark, NJ Prudential Center
January 24th Montreal, PQ Bell Centre
January 27th Toronto, ON Air Canada Centre
January 29th Philadelphia, PA Wells Fargo Center
January 30th Buffalo, NY First Niagara Center
January 31st State College, PA Bryce Jordan Center
The wait is over, Jay Z released his video, "Picasso Baby" a six-hour marathon performance at Chelsea's Pace Gallery. Director, Mark Romanck turned a six-hour marathon performance into a 10-min piece titled Picasso Baby: A Performance Art Film. Which includes appearances by Judd Apatow, Rosie Perez, Taraji P Henson, Marina Abramovic, Wale and more.  Check out the video above and let us know what you think!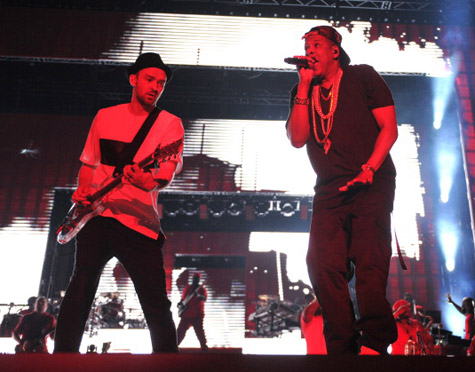 To avoid all the "who's headlining?" and/or "who opens for who?" questions and theories, Jay and JT have put together a show almost like the 'Watch The Throne' tour, alternating sets and at times performing together. To keep the old and new fans happy, both stars performed their new material off their latests albums and the classics like "Big Pimpin," and "Rock Your Body."
Check the footage from the show and get the set list below:
Legends of Summer Tour Set List:
Holy Grail (Jay-Z)
Give It To Me (Timbaland)
Rock Your Body (Timberlake)
Izzo (H.O.V.A.) (Jay-Z)
Excuse Me Miss (Jay-Z)
Señorita (Timberlake)
On To The Next One (Jay-Z)
Like I Love You (Timberlake)
My Love (Timberlake)
Big Pimpin (Jay-Z)
Tunnel Vision (Timberlake)
Jay-Z Only
Jigg What
PSA
Crown
Somewhere in America
U Don't Know
99 Problems / Walk This Way
Bonnie & Clyde
Clique
Heart of the City
Timberlake Only
Pusher Love
Summer Love
Love Stoned
Until the End of Time
Let the Groove Get In
Take Back the Night
FutureSex/LoveSounds
Frontin
Together
Song Cry (Jay-Z)
Cry Me a River (Timberlake)
Tom Ford (Jay-Z)
FuckWithMeYouKnowIGotIt (Jay-Z)
What Goes Around… Comes Around (Timberlake) /Dirt Off Your Shoulder (Jay-Z)
New York New York / Empire State of Mind (Jay-Z)
Mirrors (Timberlake)
Run This Town (Jay-Z)
Encore
Encore (Jay-Z)
SexyBack (Timberlake)
Suit & Tie (Timberlake)
Young Forever (Jay-Z & Timberlake)
In a recent sit-down with Revolt TV, Timbaland spoke about a new song featuring Keri Hilson on his upcoming album in which he talks about his once broken relationship with Jay-Z.