The VMA Awards were handed out Sunday, hosted by Miley Cryus. In between her bold outfits, epic acceptance speech for the Video Vanguard Award from Kanye West, Nicki Minaj calling out Miley Cyrus and Justin Bieber emotional come back performance. Below is the list of the 2015 MTV Video Music Awards winners.
Best Rock Video: Fall Out Boy, "Uma Thurman"
Best Pop Video: Taylor Swift, "Blank Space"
Best Male Video: Mark Ronson featuring Bruno Mars, "Uptown Funk"
Best Hip-Hop Video: Nicki Minaj, "Anaconda"
Best Female Video: Taylor Swift, "Blank Space"
Best Video With a Social Message: Big Sean featuring Kanye West & John Legend, "One Man Can Change the World"
Song of the Summer: 5 Seconds of Summer, "She's Kinda Hot"
Best Collaboration: Taylor Swift ft. Kendrick Lamar, "Bad Blood"
Best Direction: Kendrick Lamar, "Alright" (Colin Tilley & the Little Homies)
Best Choreography: OK Go, "I Won't Let You Down" (OK Go, air:man and Mori Harano)
Best Cinematography: Flying Lotus feat. Kendrick Lamar, "Never Catch Me" (Larkin Sieple)
Best Art Direction: Snoop Dogg, "So Many Pros" (François Rousselet, Jason Fijal)
Best Editing: Beyoncé, "7/11" (Beyoncé, Ed Burke, Jonathan Wing)
Best Visual Effects: Skrillex and Diplo feat. Justin Bieber, "Where Are U Now" (Brewer, Gloria FX, and Max Chyzhevskyy)
Artist to Watch: Fetty Wap
Video of the Year: Taylor Swift featuring Kendrick Lamar, "Bad Blood"
In celebrations of the, International Women's Day we provide the anthem all ladies should be riding to today. We celebrate all women and their achievements!
Enjoy Mustard on the beat. Adding a little touch of EDM on Beyoncé's, "7/11" track. Let us know what you think.
Narrated by herself, Bey does some reflecting in this documentary commemorating the one year anniversary of her self-titled album, BEYONCE. Let us know what you think!
It's been nearly a year since Beyoncé surprised the world and released her self-titled album. Since then, BEYONCÉ has gone double platinum and spawned several hits. To commemorate the milestone, Bey will release the Platinum Edition Box Set featuring two new songs, "7/11″ and "Ring Off." In addition to the two new tracks, the 2 CD/2 DVD set includes four unreleased remixes featuring Kanye West, Nicki Minaj, Pharrell Williams, and Mr. Vegas. Let us know what you think!
Bow Down, Bey fans! Beyonce released a super sexy music video for one of her newest songs, "7/11," on Nov. 21. The clip, which shows Beyonce twerking and dancing half-naked all over a hotel suite — including the balcony — was posted on her personal website. Let us know what you think!
"Of course sometime sh*t go down when there's a billion dollars on an elevator," this according to Beyoncé, who touches on the now-infamous elevator Solange/Jay Z scuffle on her wicked "Flawless (Remix)" featuring Nicki Minaj.
The Queen B and the queen of rap join forces on the remix of the feminist anthem, "Flawless." The female powerhouse duo released the song on Bey's website, August 2.
Jay Z and Beyoncé hype up their upcoming ON THE RUN TOUR , with a trailer for a fake movie. Cameo appearances from Sean Penn, Don Cheadle, Guillermo Díaz, Emmy Rossum, Jake Gyllenhaal, Blake Lively, Rashida Jones and Kidada Jones. Check this out, let us know if it does the job or not!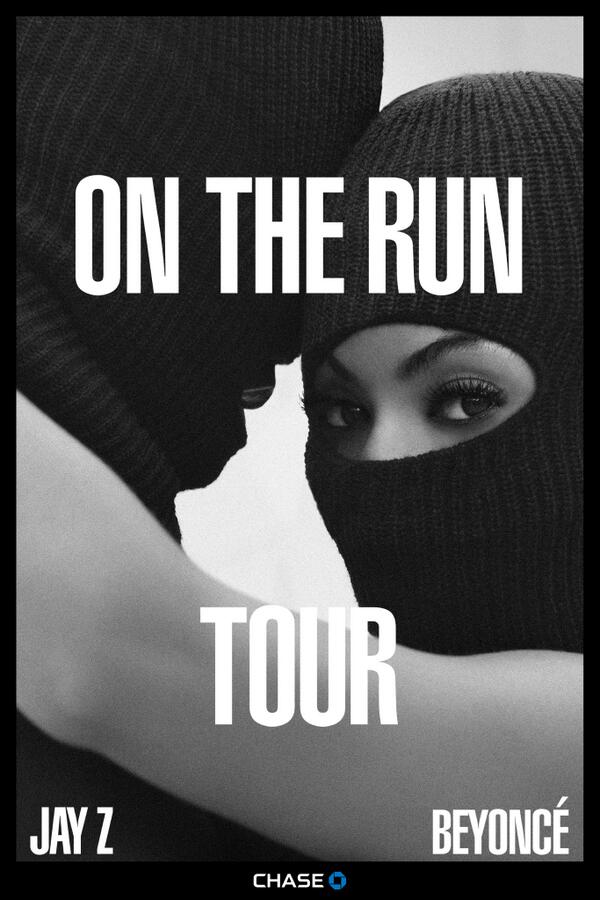 The Carter's announce they will be on the road together this summer for their 'On The Run' Tour.
Find out when their coming to your neck of the woods below!
Wednesday, June 25 Miami, FL Sun Life Stadium
Saturday, June 28 Cincinnati, OH Great American Ballpark
Tuesday, July 1 Foxborough, MA Gillette Stadium
Saturday, July 5 Philadelphia, PA Citizen's Bank Park
Monday, July 7 Baltimore, MD M & T Bank Stadium
Wednesday, July 9 Toronto, ON Rogers Centre
Friday, July 11 East Rutherford, NJ MetLife Stadium
Tuesday, July 15 Atlanta, GA Georgia Dome
Friday, July 18 Houston, TX Minute Maid Park
Sunday, July 20 New Orleans, LA Mercedes-Benz Superdome
Tuesday, July 22 Dallas, TX AT&T Stadium
Thursday, July 24 Chicago, IL Soldier Field
Sunday, July 27 Winnipeg, MB Investor Group Field
Wednesday, July 30 Seattle, WA Safeco Field
Saturday, August 2 Los Angeles, CA Rose Bowl
Tuesday, August 5 San Francisco, CA AT&T Park