Soul Assassins is back with their brand new Winter Collection. This lookbook, shot by famed hip hop photographer Mike Miller, captures the true essence of this lifestyle brand. The new collection as worn here by Skinhead Rob, DJ Muggs, and Mister Cartoon, consists of tees, hoodies, crewnecks, beanies, snapbacks and accessories. The line is heavily influenced by the music and art that ascends from the Soul Assassins family, and the design and inspiration reflect the true Los Angeles lifestyle. – SoulAssassins.com
CLICK HERE TO CHECK OUT PICS OF SA's WINTER COLLECTION HERE.
50 teams up with Em and Adam Levine for "My Life."
CLICK BELOW TO LISTEN AND DL
50 Cent ft. Eminem & Adam Levine – "My Life" (CLEAN)
A lil bit of everything in this one… Started with a TX/Louisiana classic and you can see where it goes from there. Some #YoungCalifornia slaps, some good House/Dance records, a trip to the trap and I close with Wiz and The Weeknd simply because ladies love that song… ENJOY!
Follow me on Instagram and Twitter @CriscoKidd
TRACKLIST:
1. Young Bleed ft. Masta P – How Ya Do Dat
2. Problem ft. Bad Lucc – Like Whaaat
3. T.I. ft. Lil Wayne – Ball
4. WhoKid Woody – Hit Yo Ricky
5. HBK Gang – Gettin' It
6. E-40 ft. Too Short – Dump Truck
7. TJR – Funky Vodka – DJ Excel Transition
8. Yolanda Be Cool – Before Midnight – Angger Dimas Remix
9. Alex Gaudino – Do You Wanna
10. Fareast Movement – Turn Up The Love – NASA Edit
11.Meek Mill ft. Drake – Amen – Scene Channel 42 Bootleg
12. Rock The Funky Beats Acapella
13. Sidney Samson – Riverside – Spenca OG Trap Bootleg
14. Roc$tedy – This Generation
15. Pitbull – I'm Off That
16. Wiz Khalifa ft. The Weeknd – Remember You
Visit http://www.djcity.com/podcast to subscribe to our free weekly mix downloads.
IGA: SANTA MONICA, CA – October 31, 2012 – Rave reviews and remarkable first week sales have greeted good kid, m.A.A.d. city (Top Dawg Entertainment/Aftermath Entertainment/Interscope), the highly anticipated debut major label album from 25-year-old Compton rapper Kendrick Lamar. According to Nielsen SoundScan, the album, released October 22nd, will debut with more than 241,000 in sales and also atop the Billboard Rap, the Billboard R&B/Hip-Hop chart and at #2 on the Billboard 100 behind only Taylor Swift's Red. good kid, m.A.A.d. city earns the biggest-selling debut week for any new artist debut in 2012.
Anointed as "hip-hop's next big star" by XXL magazine and awarded Lyricist of the Year at the recent BET Hip Hop Awards, Lamar has also received effusive praise for good kid, m.A.A.d. city from critics across the country:
"Easily the most ambitious (album) in hip-hop this year, maybe the most ambitious in any mainstream-focused genre." (New York Times)

"A perfect coronation for the new 'King of California,' (Dr. Dre's words), as well as a shining example of Lamar's hyper-introspective style of SoCal hip-hop." (Washington Post)

"A masterpiece of storytelling, empathy in the midst of chaos." (Los Angeles Times)

"He both resurrects and reinvents West Coast hip-hop.A triumph." (Boston Globe)

"The plush production of tracks like the Neptunes-produced centerpiece 'good kid' hearkens back to Seventies blaxploitation soundtracks and Nineties gangsta-rap blaxploitation revivals, and good kid warrants a place in that storied lineage." (Rolling Stone, 4/5 stars)

"There's a sophistication in his cool, taut delivery and deftly syncopated, soulfully textured arrangements, which make his blunt accounts as seductive as they are sobering." (USA Today, 3.5/4)

"The miracle of this album is how it ties straightforward rap thrills–dazzling lyrical virtuosity, slick quotables, pulverizing beats, star turns from guest rappers–directly to its narrative." (Pitchfork, 9.5/10)

"A cohesive album filled with classic gems." (Associated Press)

"An undeniably stellar major label debut from Kendrick Lamar, which will certainly hurt the self-esteem of many rappers out now while also inspiring them to reach these heights." (XXL)

"(He) manages to hold everything together in the midst of such chaos through sheer craftsmanship. For one, he is a f**king amazing rapper. On a purely technical level, he might be the best of his generation, and it's awe-inspiring to hear him bend such complicated cadences without even breaking a sweat." (Spin)
It's "Back to School" time and The Crisco Kidd Block Party is currently seeking highly- motivated college students to intern in our Programming, Digital and Video Departments. If you are in the Southern California, Albuquerque and Houston markets and would like to learn the ins and outs of radio/entertainment alongside The Crisco Kidd Block Party, WE WANT YOU ON OUR TEAM! Submit your resume now to the attention of OH-JEZUZ at ohjezuz@gmail.com.
INTERNSHIP PROGRAM RESPONSIBILITIES INCLUDE (but not limited to):
Programming:
Contesting, screening listener calls, show prep research and talent shadowing (assisting with daily tasks/projects)
Promotional events such as concerts, community functions, station/club remotes
Work with community organizations, locals schools, and colleges/universities
Digital:
Marketing (e-blast, blogs, content, social networking sites), creative writing and updating personality web pages and social media sites
Research (music, movies, local community interests, entertainment) in your perspective city/market
Video:
Record, produce and distribute original and viral content
ELIGIBILITY:
Prospective candidates must currently be enrolled in an accredited University. Undergraduate Junior and Senior year students are preferred; qualified Sophomores may be considered.
Interns must be in good academic standing and available 15-25 hours per week.
Student must also possess good work ethics such as punctuality, self motivation, and willingness to learn. Students must also be people oriented and serious about moving their career forward.
PREFERRED (but not necessary) EXPERIENCE/SKILLS:
Able to interact with the public in an enthusiastic and professional manner.
Prior experience serving the public in industries such as radio, restaurant, retail, and special events, a plus.
Web savvy, familiar with Photoshop, photography skills beneficial, shooting/editing video skills beneficial and knowledge of basic HTML/CSS helpful. Communications majors and Art majors encouraged to apply .
DJ Drama checked check in on the Crisco Kidd Block Party to debut his new single "My Moment," off his upcoming album, Quality Street Music, in stores September 18. Drama discusses the meaning behind the record and what it means to people, his connection with Meek Mill, 2 Chainz' father passing as the single was released and what makes this T-Minus' produced track so special. He defines what "Quality Street Music" is and also talks how he's grown as an artist since his Gangsta Grillz mixtape series.
In this #CKBP EXCLUSIVE, Drama unveils more artists who will appear on the album, listen to find out who!
DJ Drama's "My Moment" available on iTunes at http://itunes.apple.com/us/album/my-moment-feat.-2-chainz-meek/id543929963 and visit his new website www.DramaLikeTheDJ.com
Follow me @CriscoKidd
Since it's EDC week/weekend, I made this week's podcast with that in mind. It's been a while since I've done one of these… enjoy!
P.S. You may experience a slight case of "rage" during Primetyme's "Riot" bootleg – you've been warned.
1. Marlena Shaw – California Soul – A Skillz Remix
2. Bag Raiders – Shooting Stars
3. Kirko Bangz – Drank In My Cup – SmithAgentSmith Are You Fine Bootleg
4. Avicii & NERVO – You're Gonna Love Again
5. Martin Solveig – The Night Out – ATrak Remix
6. Pendulum – The Island – Mo Rada 2012 EDC Edit
7. 2 Chainz – Riot – DJ Primetyme Kick Out The Epic Motherf#cker Bootleg
8. DJ Suss-One – Make The Club My Trick
9. Breakdown – F_ckin' Lose It – GTA Remix
10. Richard Vission vs Luciana – When It Feels This Good
11. Afrojack & Shermanology – Can't Stop Me – MADEin82 Remix
12. Fun – We Are Young – Revolvr Remix
Follow me @CriscoKidd and Like me on Facebook while you're at it – THANKS!
Visit http://www.djcity.com/podcast to subscribe to our weekly mixes.
ROCK THE BELLS 2012 FESTIVAL SERIES LINE-UP, DATES, & VENUES ANNOUNCED!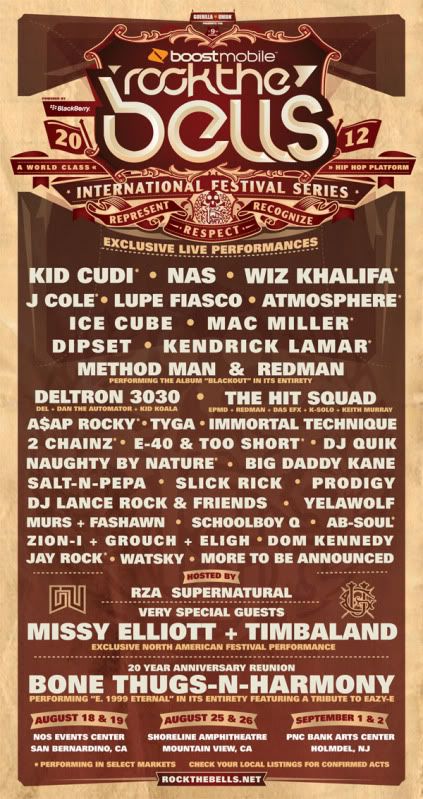 Exclusive Pre-Sale for Guerilla Union Subscribers Only, Starting Friday!
San Bernardino, CA
08/18 – 08/19
NOS Events Center
Pre-Sale: Friday, May 18 at 10am PST – 10pm PST
On-Sale to General Public: Saturday, May 19 @ 10am PST
Password: HISTORY
Mountain View, CA
08/25 – 08/26
Shoreline Amphitheatre
Pre-Sale: Friday, May 18 at 10am PST – 10pm PST
On-Sale to General Public: Saturday, May 19 @ 10am PST
Password: HISTORY
Holmdel, NJ
09/01 – 09/02
PNC Bank Arts Center
Pre-Sale: Friday, May 18 at 10am PST – 10pm PST
On-Sale to General Public: Saturday, May 19 @ 10am PST
Password: HISTORY
Miami, FL
December 2012
Bayfront Amphitheater
Ticket Info Coming Soon
DRAKE WON'T RESPOND TO COMMON ANYMORE
Sometimes, when you're in the middle of a rap feud, it's just best to keep quiet. And that's exactly what Drake plans to do when it comes to the one-sided beef that's brewing between him and Common. Drizzy told NahRight.com, "That situation is not a 'hip-hop moment' or a 'battle for the sake of musical integrity'… it's a ploy for attention around the release of an album." As previously reported, the Chicago native has denied that the beef began due to Drake's rumored fling with Common's ex-girlfriend, Serena Williams.
AND…
DRAKE, RIHANNA TO HEADLINE FESTIVAL IN LONDON
According to Rap-Up.com, Drake and Rihanna are hooking up again. No, not like that. The entertainers are scheduled to team up at this summer's Barclaycard Wireless Festival in the U-K. Taking place at London's Hyde Park, Drizzy is expected to take stage on July 7th while Ri Ri will close the festival on July 8th. If you're interested, tickets go on sale this Friday (2/3) at 10 AM.
MIA CONFIRMS SUPER BOWL HALFTIME SHOW PERFORMANCE
NME reports that MIA has confirmed she will be performing with Madonna during the Super Bowl halftime show. The rapper told BBC Radio 1 that she will be performing with Madge and Nicki Minaj, which has been speculated for weeks. Minaj and MIA are both featured on Madonna's new single, "Give Me All Your Luvin."
RICK ROSS SAYS DR DRE IS "INSPIRATIONAL"
In case you didn't know, Rick Ross recently logged studio time with DJ Khaled and Dr Dre. While it's unknown how many tracks Rozay recorded with the Dre, he told MTV News, "It was amazing. We had the opportunity to just first and foremost touch base like bosses. We went out, we had dinner, we just discussed ideas and that led to the studio." We're hoping whatever the duo recorded will either end up on Rick's upcoming album, God Forgives, I Don't, or the hitmaker's long-awaited Detox LP.
ROMEO MILLER LANDS NEW ACTING ROLE
Romeo Miller has taken a break from music to expand his acting resume. After recently starring in Jumping The Broom, Master P's son has reportedly landed a role in Tyler Perry's Madea's Witness Protection. The former Dancing With The Stars competitor will star as "Jake" in the upcoming comedy that also features John Amos, Denise Richards and Tom Arnold.
The flick marks Perry's 14th movie in seven years.
2 CHAINz CONFIRMS SIGNING TO DEF JAM
During an interview with XXLMag.com, 2 Chainz announced that he has signed to Def Jam Recordings. The rapper, who was signed to Ludacris' Disturbing tha Peace label, stated, "I just took another route as far as running my own company and bossing up. But on the other hand, I'm still working with him. He has an album coming out this year, as well. Matter of fact, we are label mates, now, which is crazy. So, yeah, that'll be cool. I'm looking forward to that." In addition, he plans to release two new projects in 2012.
MINDLESS BEHAVIOR PARTNERS WITH K-MART
Mindless Behavior are really starting to make a name for themselves. The R&B boy band have landed a merchandise deal with Kmart. The "Mrs. Right" group said in a statement, "We're excited to partner with Kmart to bring some new MB swag to fans all across the U-S! We helped design all of the styles and hope all of our Mindless ladies love em!" Fans can expect the band to celebrate the launch by doing in store appearances and autograph signings starting today.
– For a list of cities, visit MindlessBehavior.com.
– They recently received their first NAACP Image Award nomination.
QUESTLOVE PAYS HOMAGE TO DON CORNELIUS
Following the news that Soul Train creator Don Cornelius died of an apparent self-inflicted gunshot, Questlove paid homage to the 75-year-old icon via OkayPlayer.com. Here's The Roots' drummer's full post:
"Don Cornelius was my first non musical non celeb non blood related hero.

It's amazing timing that my arrival on earth and his greatest creative manifestation came within 9 months of each other. both symbolizing a new hope for urban America. most won't get it til now (especially now that he's gone) but i pray that Don knew of the appreciation he had in all of us born after 1968. You people will have to forgive me…I'm just kinda writing from the heart….sporadic thoughts tears and snot are spilling out and whatnot. I'm certain dream and toure and nelson will do his legacy justice in print….i just felt the need to write something."
TYRESE SHOOTS VIDEO FOR "NOTHING ON YOU"
According to his official fansite, Tyrese is gearing up to re-release his latest album, Open Invitation. To get fans more hyped about the deluxe version, the crooner has shot a visual to his new single, "Nothing On You," which includes Chilli from TLC as his love interest. You can expect the clip to premiere on Valentine's Day.
MOBB DEEP, NIPSEY HUSSLE ADDED TO SMOKEOUT FEST
Looks like the Cypress Hill Smokeout 2012 Festival has attracted an impressive roster of performers. We've just learned the full list of acts that are scheduled to perform, which include Mobb Deep, Wiz Khalifa, Curren$Y, Nipsey Hussle and many more. The event takes place on March 3rd at NOS Events Center in Southern California and tickets are available now via TicketFly.com.
Smokeout 2012 Line-up
Sublime with Rome
Korn
Cypress Hill
Thievery Corporation
Wiz Khalifa
Café Tacuba
Wolfgang Gartner
MSTRKRFT
Rusko
Mobb Deep
Low End Theory (Daddy Kev, Nobody, Gaslamp Killer, D-Styles, Nocando)
The Dirty Heads
Curren$Y
Nipsey Hussle
DJ Muggs
Daedelus
Danny Brown
ScHoolBoy Q
Ritmo Machine
Fashawn
PITBULL TO GET HONORED AT BMI AWARDS
AllHipHop.com reports that Pitbull is expected to be honored at the 19th annual BMI Awards. The rapper will be presented with the coveted BMI President Award, which recognizes "Pitbull's genre bending style of music has allowed him to appeal to numerous fan bases, including Hip-Hop, Urban, Latin, Pop and European." The ceremony will take place at Encore Wynn Theater in Las Vegas on March 30th.
– Previous recipients include Taylor Swift, Emilio and Gloria Estefan, and Willie Nelson.
DAVID GUETTA UNLEASHES NEW VIDEO WITH NICKI MINAJ!
David Guetta has released his new video for "Turn Me On," featuring Nicki Minaj. In the clip, Guetta plays a mad scientist creating his very own Nicki Minaj from scrap parts. The clip opens on Guetta putting the final touches on his Minaj doll plans. As the song progresses, we see the plastic doll turn into a very human-looking Nicki Minaj. The video was shot late last year and directed by Sanji, who was previously at the helm of videos for Mary J. Blige, Lauryn Hill, Jesse McCartney and more. This is the second collabo for Guetta and Minaj. They also appeared together on his track, "Where Them Girls At."
BIG NAMES SET TO HONOR McCARTNEY
On February 10th, just two days before the GRAMMYs, a huge group of diverse musicians will gather in L-A to pay tribute to the one and only Paul McCartney as he is honored as the 2012 MusiCares Person of the Year. The event will see performances by Neil Young and Crazy Horse, Tony Bennett, Foo Fighters, Coldplay, Alicia Keys, James Taylor, Norah Jones, Katy Perry and more. And of course, Paul will perform as well. Comedian Eddie Izzard will host the show, which recognizes Paul for his artistic achievements and philanthropic work. The event is sold-out and proceeds from it will go towards emergency financial assistance and addiction recovery programs for musicians.
– This is the 22nd years MusiCares honored a Person of the Year. Previous honorees include Elton John, Billy Joel, Bono, Paul Simon, Sting, Phil Collins and James Taylor.