Abrina links up with Eric Bellinger to bring you new visuals for, "Actin Up." With cameo appearances by our very own Crisco Kidd, let us know what you think!
Continuing to build on the June release of his sixth studio album Trigga, Trey Songz shares his latest music video "What's Best For You." The Troy Taylor and BAM-produced cut served originally as a deluxe bonus track, but Trey felt the release was deserving enough to get a proper visual treatment. The DMV-based singer-songwriter producer recently announced a World Tour in the works with Chris Brown, as the two are putting together official dates to promote their new project heading into the fall.
From the jungle to aerobics class, Nicki and her gals shake more than what their mama gave them in her new video directed by Colin Tilley. Yo Drizzy, you's the real MVP. The Pink Print coming soon.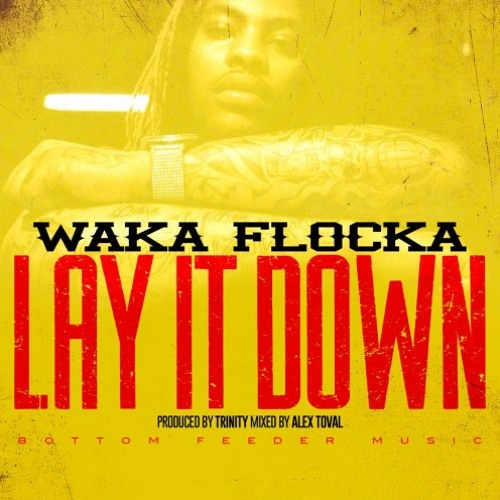 Waka Flocka returns with hew new song "Lay It Down" produced by Trinity. Be on the lookout for his Flockaveli 2 LP coming soon.
Miles of twisting catacombs lie beneath the streets of Paris, the eternal home to countless souls. When a team of explorers ventures into the uncharted maze of bones, they uncover the secret of what this city of the dead was meant to contain.  A journey into madness and terror, As Above, So Below reaches deep into the human psyche to reveal the personal demons that come back to haunt us all. In theaters August 29. Rated R.

Written by John Erick Dowdle and Drew Dowdle (Quarantine, Devil) and directed by John Erick Dowdle, the psychological thriller is produced by Thomas Tull, Jon Jashni, Patrick Aiello and Drew Dowdle.  Alex Hedlund serves as the executive producer.  www.asabovesobelowmovie.com
Our scary movie is almost here people!! AS ABOVE, SO BELOW hits theaters August 29th and I'm pretty excited for this one. It kind of reminds of THE DECENT.
I've got a few AS ABOVE, SO BELOW t-shirts to give away. Are you interested?! Here's what you gotta do to enter this contest.
- – – – – – – – – – – -
EMAIL ME A PHOTO OF YOUR BIGGEST FEAR
- – – – – – – – – -
EMAIL me your PHOTO, FIRST & LAST NAME and FULL MAILING ADDRESS to mikethemovieguy@gmail.com
(Subject line: As Above, So Below)
- – – – – – – – – – -
This promotion will end August 29, 2014 at 10:00 AM (central time). Only a single entry per person. No purchase necessary. Only U.S. residents are eligible to enter. Winner's will be contacted via email. iWatchMike.com and other promotional partners are not responsible for lost, stolen, or misdirected mail.
- – – – – -
Code named 'The November Man'; Peter Devereaux (Pierce Brosnan) is an extremely dangerous and highly trained ex-CIA agent, who is lured out of quiet retirement on a very personal mission. He must protect valuable witness, Alice Fournier, (Olga Kurylenko) who could expose the truth behind a decades old conspiracy. He soon discovers this assignment makes him a target of his former friend and CIA protégé David Mason (Luke Bracey). With growing suspicions of a mole in the agency, there is no one Devereaux can trust, no rules and no holds barred.
Check it out movie fans!! I've got guaranteed seats available for the upcoming screening of THE NOVEMBER MAN. It hits theaters November 27th but you're getting the chance to see it first on Tuesday, August 26th!!
NOW…before I go any further…WHY are they leaving my beautiful Olga Kurylenko off this Facebook banner?!?! (lol) They can't leave her off!! I know her more than I know this Luke Bracey!! (lol)
OK…I'm done now.
- – – – – – – – – -
EMAIL me your ANSWER, FIRST & LAST NAME to mikethemovieguy@gmail.com
(Subject line: The November Man – CITY YOU ENTERING FOR)
- – – – – – – – – – -
THE NOVEMBER MAN
AUGUST 26, 2014
7:30PM
Dallas  – Studio Movie Grill – Dallas Royal Ln
El Paso  – Cinemark West
Miami – Cobb Dolphin 19
Los Angeles – Regal LA Live
New York City – AMC Empire 25
- – – – – -
THIS PROMOTION WILL END SUNDAY, AUGUST 24 AT 5PM/C. No one will be admitted late. Theatre and promoter are not responsible for overbooking. We may refuse, revoke or limit admission in our sole discretion at any time. Only a single entry per person. No purchase necessary. Only those over age 18 are eligible to participate and win. Only U.S. residents are eligible to enter. Entry does not guarantee movie passes. Please all rules on tickets.
- – – – – – – -
Facebook: https://www.facebook.com/NovemberManFilm
Twitter: https://twitter.com/TheNovemberMan
Official site: http://www.thenovemberman.com/