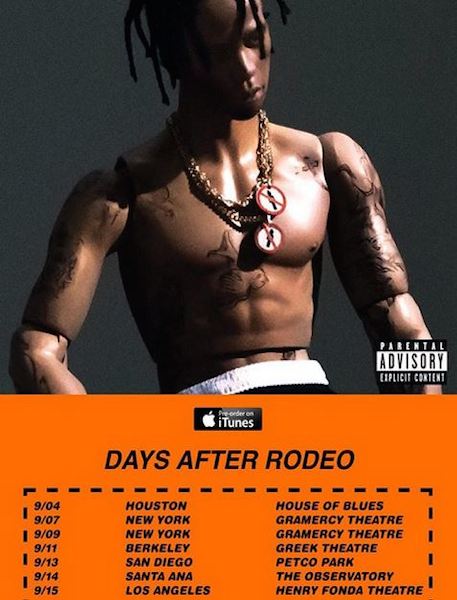 Travis Scott announces his seven-day tour. Due to take off on the release date of his highly anticipated album, Rodeo dropping September 4th. Travis Scott will be hitting a town near you, be sure to grab your tickets!
Hear new music from Rick Ross as he addresses his current state of mind. Gearing up for his highly anticipated album, Black Dollar dropping this Thursday! Produced by Justice League and 8 Bars, let us know what you think!
New visuals from Red Cafe with plenty of eye-candy to go around. Let us know what you think!
Hear some new heat from August Alsina featuring Lil Wayne on, "Why I Do It." Let us know what you think!
The Game takes it to his Instagram page to reveal the artwork for his highly anticipated album, Documentary 2. He explains the project's direction and gives fans the release date for the, Documentary 2. Read his Instagram post below.
To my true fans: it's been really dope to have you ridin' with me the last 10 years from the 1st Documentary til now…. I appreciate your loyalty & the patience you have displayed while waiting for me to finish #TheDocumentary2 & I am proud to give you my album cover shot by legend photographer & director @JonathanMannion (who also shot my 1st album cover) & graphic designer @CeoSelfmade for collaborating with Jonathan to bring such a classic image of me on the bridge in my hood….Cedar Block Piru in westside Compton, California… Everything about the photo shoot made me feel the exact same way I did when we were there 10 years ago & trust me when I say…. This album is better than my 1st for more than a few reasons….
But you don't have to take my word for it because you will see for yourself when it drops SEPTEMBER 25TH 2015 !!!! After Kendrick dropped his album, then Dr. Dre dropped #Compton then the movie doing 100 million after just 2 weeks….. This album will add to my cities continuous legacy !!!! I'm proud to be from #COMPTON & I wish #EazyE was alive to see us flourish yet again…… We on !!! This album cover represents the struggle to stay alive in a city where CRIPS & BLOODS have been at war since 1972 & it's because of you "THE FANS" I will again get to give you my documented accounts of life here in Los Angeles …. SEPTEMBER 25TH history will be made again #TheDocumentary2
Following his 2015 MTV Video Music Awards's performance, Justin Bieber drops the official visuals for his hit single, "What Do You Mean?" Let us know what you think!
The VMA Awards were handed out Sunday, hosted by Miley Cryus. In between her bold outfits, epic acceptance speech for the Video Vanguard Award from Kanye West, Nicki Minaj calling out Miley Cyrus and Justin Bieber emotional come back performance. Below is the list of the 2015 MTV Video Music Awards winners.
Best Rock Video: Fall Out Boy, "Uma Thurman"
Best Pop Video: Taylor Swift, "Blank Space"
Best Male Video: Mark Ronson featuring Bruno Mars, "Uptown Funk"
Best Hip-Hop Video: Nicki Minaj, "Anaconda"
Best Female Video: Taylor Swift, "Blank Space"
Best Video With a Social Message: Big Sean featuring Kanye West & John Legend, "One Man Can Change the World"
Song of the Summer: 5 Seconds of Summer, "She's Kinda Hot"
Best Collaboration: Taylor Swift ft. Kendrick Lamar, "Bad Blood"
Best Direction: Kendrick Lamar, "Alright" (Colin Tilley & the Little Homies)
Best Choreography: OK Go, "I Won't Let You Down" (OK Go, air:man and Mori Harano)
Best Cinematography: Flying Lotus feat. Kendrick Lamar, "Never Catch Me" (Larkin Sieple)
Best Art Direction: Snoop Dogg, "So Many Pros" (François Rousselet, Jason Fijal)
Best Editing: Beyoncé, "7/11" (Beyoncé, Ed Burke, Jonathan Wing)
Best Visual Effects: Skrillex and Diplo feat. Justin Bieber, "Where Are U Now" (Brewer, Gloria FX, and Max Chyzhevskyy)
Artist to Watch: Fetty Wap
Video of the Year: Taylor Swift featuring Kendrick Lamar, "Bad Blood"
FURIOUS 7  HITS THE STREETS WITH WAZE FOR GROUNDBREAKING PROMOTION TO LAUNCH HOME ENTERTAINMENT RELEASE  
Navigation App Gives Drivers the Fastest Route
To Locate Free Furious 7 Merchandise in Seven Cities
Universal City, California, August 25, 2015 –Universal Pictures Home Entertainment (UPHE) is leveraging Waze (http://www.waze.com), the real-time crowd sourced navigation app, to promote the home entertainment release of global blockbuster Furious 7. "Get your Furious 7 Fix Fast" is a first-of-its-kind promotion that will allow Waze users in seven cities to find Prizing Pit Stops giving away free Furious 7 merchandise. UPHE will release Furious 7 on Digital HD starting today and on Blu-ray™, DVD and On Demand on September 15.

From today through September 17, Waze will display scheduled messages announcing the release of Furious 7 on Blu-ray™, DVD and Digital HD in seven participating markets. On one day in each market, Waze users can also find directions to pop-up venues where street teams will be distributing free Furious 7 branded T-shirts, hats, license-plate frames, and a limited number of digital codes to download the film on Digital HD, among other items. Each Prizing Pit Stop will operate while supplies last for up to 90 minutes and then move on to two other spots throughout the day.
– – – – –
Prizing Pit Stops will take place on the following days:
Friday, Sept 11:  Portland & Dallas
Monday, Sept 14: San Francisco & Washington, D.C.
Tuesday, Sept 15: New York & Los Angeles
Thursday, Sept 17: Chicago
– – – – –
The promotion, which marks the first time Waze has partnered with a home entertainment distributor, will be supported by local cable and radio mentions in the participating markets and through Waze's social media posts.

"We're excited to team with Waze, one of the top navigation apps, to excite fans for the release of Furious 7," said John Morici, UPHE Managing Director, US & Canada. "This is an innovative promotion that uniquely engages audiences with an app that has become indispensable to millions of commuters."
About Furious 7
Vin Diesel, Paul Walker and Dwayne Johnson lead the returning cast across the globe in the Extended Edition of their most gravity-defying and emotional adventure yet. Targeted by a cold-blooded black-ops assassin with a score to settle (Jason Statham), their only hope is to get behind the wheel again and secure an ingenious prototype tracking device. Facing their greatest threat yet in places as far away as Abu Dhabi and as familiar as the Los Angeles streets they call home, the crew must come together once again as a team, and as a family, to protect their own.
About Waze
Waze is the social navigation pioneer, leveraging mobile technology and a passionate global community to redefine expectations of today's maps. Waze is home to the world's largest network of drivers who work together daily to outsmart traffic and save time and money. The app consistently recommends the fastest routes based on real-time driving and data from more than 50 million users. From traffic reroutes to low gas price alerts and relevant offers from favorite brands, Waze is one of the most comprehensive driving companions in the marketplace. To download the free Waze app for iOS or Android, visit http://www.waze.com.
About Universal Pictures Home Entertainment
Universal Pictures Home Entertainment (UPHE) is a unit of Universal Pictures, a division of Universal Studios (www.universalstudios.com). Universal Studios is a part of NBCUniversal, one of the world's leading media and entertainment companies in the development, production, and marketing of entertainment, news, and information to a global audience. NBCUniversal owns and operates a valuable portfolio of news and entertainment television networks, a premier motion picture company, significant television production operations, a leading television stations group, world-renowned theme parks, and a suite of leading Internet-based businesses. NBCUniversal is a subsidiary of Comcast Corporation.
When Thomas wakes up trapped in a massive maze with a group of other boys, he has no memory of the outside world other than strange dreams about a mysterious organization known as W.C.K.D. Only by piecing together fragments of his past with clues he discovers in the maze can Thomas hope to uncover his true purpose and a way to escape. Based upon the best-selling novel by James Dashner.
– – – – – – –
I thought the first one was dope – this one looks even better!! MAZE RUNNER: THE #SCORCHTRAILS hits theaters September 18th!!
The advance screening is for HOUSTON on Monday, 8/31 at Edwards Grand Palace at 7 PM
I'll make this an easy one for ya…just visit GOFOBO.COM and use promo code: IWMMAZEHOU
Better act fast…this will go fast!
– – – –
THIS PROMOTION WILL END WHEN ALL OF THE PASSES ARE GONE. No one will be admitted late. Theatre and promoter are not responsible for overbooking. We may refuse, revoke or limit admission in our sole discretion at any time. Only a single entry per person. No purchase necessary. Only those over age 18 are eligible to participate and win. Only U.S. residents are eligible to enter. Entry does not guarantee movie passes. Please all rules on tickets.
– – – – – – – – – – – – – – – – – – – – – – – – – – – – – – –
Fear the Walking Dead has finally arrived to AMC. Join VRO hosts Mike, Jesus, Brancey, Kristin and Briana every Monday night as they discuss the Sunday night's episode of Fear the Walking Dead.
If you have a comment about the podcast or the AMC series – please send an email to mike@iwatchmike.com
A highly dysfunctional blended family is forced together when they realize a reported virus is actually the onset of the undead apocalypse.
– – – – – – – –
Hear more TV recaps at THEVRO.COM
See Fear the Walking Dead at AMC.COM
– – – –
Intro to the show: YouTube.com/AMC
Outro to the show: YouTube.com/TheWalkingDeadandMore2