In today's show, Jennyfly and I chat about a New Years Eve 'accident', Michael Jackson, Bradley Cooper & Zoe Saldana break up, clubs, music, Texas Chainsaw 3D, Cannibal NYE cop, new DVD's, Netflix Friday Movie, giveaways, relationships, Movie Girl of the Week, news, gossip, and more!
Follow us on Twitter: @mikethemovieguy and @jennyfly
Questions & comments – email us at mikethemovieguy@gmail.com
 – – – – – – – – – – – – – – – – – – – – – – – – – – – – – -
TEXAS CHAINSAW 3D is FINALLY HERE!
…and I've got something for you NEW ORLEANS! It's a TEXAS CHAINSAW 3D Prize Pack that would include the following goodies: (1) Saw DVD, (1) My Bloody Valentine DVD, (1) Scream DVD, (1) Texas Chainsaw 3D t-shirt, (1) Texas Chainsaw 3D shot glass, and (1) poster.
- – – – – – – – – – – -
ENTER-TO-WIN..by answering the following question….
IF YOU COULD BE IN ANY OF THE 'TEXAS CHAINSAW MASSACRE' FILMS, WHICH ONE WOULD IT BE AND WHY?
Email your ANSWER, FIRST/LAST NAME, and MAILING ADDRESS to mikethemovieguy@gmail.com
(Email Subject: Texas Chainsaw 3D in New Orleans)
- – – – – – – – – – – – – – – – – – – – – – – – – – – – – – -
This promotion ends January 9, 2013 at 12:00 Central time. Only a single entry per person. Duplicate entries will be disqualified. Winners will be notified by email.  No purchase necessary. Only those over age 18 are eligible to participate and win. Only U.S. residents are eligible to enter. iWatchMike.com and other promotional partners are not responsible for lost, stolen, or misdirected mail.
- – – – – – – – – – – – – – – – – – – – – – -
TEXAS CHAINSAW 3D – NOW PLAYING
#TexasChainsaw3D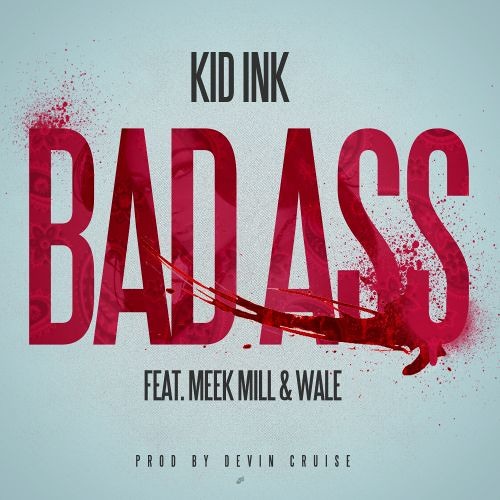 [New York, NY – January, 2013] – Emerging Los Angeles rapper Kid Ink has officially signed to RCA Records following the massive success of his self-released mixtape Rocketshipshawty and has just released the Meek Mill & Wale assisted single, "Bad Ass."
Says Ink, "We achieved so much last year independently but we just felt it was time to team up with a major in 2013 to take it to the next level and RCA is as excited as we are about the vision and possibilities."
"I'm ecstatic to have someone as multi-talented as Kid Ink, along with the backing of Tha Alumni team with us at RCA Records," added J. Grand, SVP of A&R and Marketing for RCA. "We see him not just as an emerging domestic star but as someone whose music and entrepreneurship is already developing a global presence."

Tha Alumni Group CEO, DJ Ill Will, who also serves as Kid Ink's business partner and manager, echoes those sentiments saying "RCA gave us a unique opportunity to join forces with them while still staying true to our fans and what got us here in the first place."
Orchestrated by producer Devin Cruise, a snippet of "Bad Ass" was unleashed November 2012 on Kid Ink's self-released mixtape, Rocketshipshawty. Along with the ear-catching track, the project showcases Ink's unique wordplay and melodic hooks over addictive production by the likes of Young Chop ("OG") and longtime collaborator Jahlil Beats ("Loaded"). The project has been accompanied by numerous videos, including a captivating visual for Hell & Back" (remix)featuring the energetic MGK, who graced the XXL Magazine 2012 Freshman Class cover with Kid Ink. To date, the 16-song release has collected 300K downloads on leading mixtape destination DatPiff.com and was highlighted in the Top 20 on the site's "Top 50 Mixtapes of 2012."  HotNewHipHop.com also featured the mixtape, where it has amassed an additional 500K downloads and plays.
Following a consistent and tireless independent run in 2012, the restless Kid Ink has no plans of slowing down in the new year and is quickly mapping out a promising path to success. The fully tatted rapper has planted his footprint in the social media landscape, which boasts over 300K loyal Twitter followers, 250K Instagram fans and over 60 million views on Youtube, in addition to countless mixtape material that trails back to 2010. His initial highly successfulindependent album offering, Up & Away, arrived this past June to a shining XL rating in XXL Magazine and sparked a highly competitive bidding war amongst all major record labels, fueled by the single "Time of Your Life." Currently, Kid Ink is recording his Tha Alumni Music Group/RCA Records debut project, selling out shows across the globe, and extending his sense of style to fashion brands including the prominent Alumni brand as well as a current collaboration with elite street wear line, Dope Couture.
For the latest on Kid Ink, please visit KidInkMusic.com and follow @Kid_Ink on Twitter.
AVAILABLE ON iTUNES NOW!
Guillermo del Toro presents Mama, a supernatural thriller that tells the haunting tale of two little girls who disappeared into the woods the day that their parents were killed. When they are rescued years later and begin a new life, they find that someone or something still wants to come tuck them in at night.
In theaters January 18, 2013 - Official Website
Chanel Dror, a 24-year old straight out of Houston, TX who was discovered by covering some of Houston's most classic rap songs has just released her new single, "R U Jealous Yet," produced by the BeetGees.
I had a Netflix double feature the other day. I watched WWE's THE DAY and TEXAS KILLING FIELDS. The first was a post-apocalyptic survival movie and the second – a serial killer running around Texas City killing girls! ENJOY the reviews.