Bey from OctobersVeryOwn on Vimeo.
Drizzy shares a lil in-studio video from the making of his "Girls Love Beyonce" record, giving a glimpse of Drake's creative process at work. Check out the smoke-work at the end… I bet 9 out of 10 smokers are about to try this.
When Juicy J jumps on Trinidad James' "Females Welcomed," it sounds like this.
(CNN) — Chris Kelly, one-half of the 1990s rap duo Kris Kross, died Wednesday at an Atlanta hospital after he was found unresponsive at his home. He was 34.
How Kelly died isn't known, and the Fulton County Medical Examiner's Office said an autopsy is planned for Thursday.
Kelly, together with Chris Smith, shot to stardom in 1992 with "Jump," which spent eight weeks on the Billboard Hot 100.
Going by the stage name Mac Daddy (with Smith known as Daddy Mac), the pair was known for wearing their clothes backward during performances.
Rapper Da Brat was shocked by Kelly's death. She had performed at a 20th anniversary party for producer Jermaine Dupri's So So Def label in February where Kris Kross reunited for one night.
"REST IN PEACE TO MY LIL BRO CHRIS KELLY OF KRIS KROSS. Dam wasn't we JUST at rehearsal and doin a So So Def20 show?," she wrote.
Michael Skolnik, editor in chief of the hip hop site Global Grind said: "i'm wearing my clothes to work backwards tomorrow."
Kelly and Smith were 13-year-olds when they were discovered in 1991 at an Atlanta mall by Jermaine Dupri.
The duo followed up their smash "Jump" with the single "Warm It Up." Together, the songs pushed their debut album, "Totally Krossed Out," to multiplatinum status.
Next came 1993's "Da Bomb." But the album failed to find the following of the duo's debut, in large part because the boys had hit puberty and they were marketed with a tougher image.
Their career never again reached the heights of their debut, but they continued to make music.
In 1996, the duo released the album "Young, Rich and Dangerous."
On tonight's show, Jennyfly and I chat about the IRON MAN Marathon, Southwest.com travel deals, Macy's event, Houston's Cinco De Mayo weekend events, Metalachi coming to Houston, music news, Kanye West, AFTERSHOCK the movie, The Most Anticipated Horror Films of 2013, movies, gossip, entertainment news, Teen Mom 2 Star, relationships, and more! LISTEN HERE Are you on Twitter? Follow us at @mikethemovieguy and @jennyfly Check out more at iWatchMike.com and JennflyBlog.com Email comments and questions to mikethemovieguy@gmail.com
Mercury Prize Winner and 2012 Olympics performer Dizzee Rascal is back. With the ongoing preparation for his new album 'The Fifth' due this summer, the extrovert MC joined forces with hip hop legend and godfather of the dirty south, Bun B, yet again and Houston's king of the streets Trae The Truth. This proves just how well UK and US connect in verse with an ode to 'H-Town'
Shot in Houston Dizzee took to the streets with Bun-B, Trae Tha Truth, Truck Buck and The Trill Gladiators to make the video. With Oligee and turntable wizard and Kanye go-to A-Trak as producers, It's no wonder 'H-Town' has that strong south influence.
On working with Bun B Dizzee said "the collaboration for this song started with Bun, I came to Houston and had a good time and it stuck with me, I was doing a mixtape at the time and I ended up writing about it and recorded it, I sent it to Bun and he got on it straight away. When I came to Atlanta to record the album I saw Trae in the studio and we decided to do the video."
Dizzee Rascal's Mercury prize-winning debut album Boy In Da Corner set fire to the UK Garage and Brit-rap opening doors ears and doors to pay attention to what the underground scene had been doing. Dizzee is back.
– KarenCivil
TLC may have taken a backseat as of late, but the duo of Rozonda "Chilli" Thomas and Tionne "T-Boz" Watkins are ready to take the stage again.
In correlation with their Vh1 debut of the Crazy Sexy Cool: The TLC Story biopic, TLC plans on taking the stage on July 27 at the Mixtape Festival in Hershey, Penn. They also tell EW exclusively that they are working on new music. Some artists who plan on joining them in the studio are Drake, Ne-Yo and J. Cole.
Although it's been nearly two decades since TLC released CrazySexyCool in 1994, this year is looking to be their moment to shine. "With the biopic coming out, it all makes sense," Thomas said. "We always knew, when shooting the film and when it comes out, we wanted to tour in the States."
Watkins chimed in about their recent recording sessions, "Everybody has shown us love. Not one person has said 'No,' and that's amazing. So we're just going to go in and demo and demo and figure it out. I talked to Dallas [Austin] today, we're Skyping to see if I want to do this song that he has. I just left the studio last night. I go in again tomorrow."
The biopic stars Keke Palmer, Lil Mama and Drew Sidora, and it will be out later this year. Are you looking forward to new music from TLC?
– XXLMAG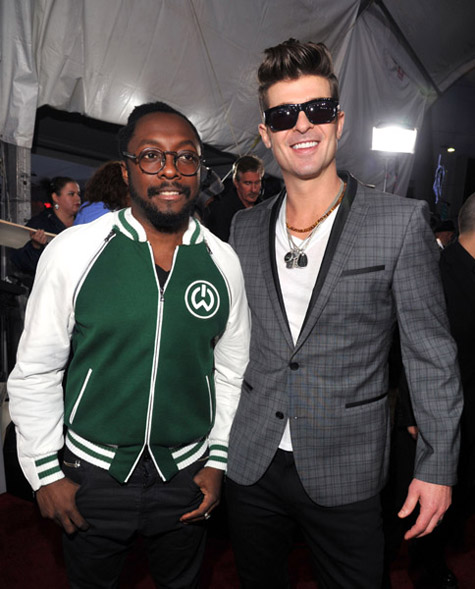 Robin Thicke premiered his new Will.I.Am produced track on Sway In The Morning on Shade 45 this am. Here's the follow up to "Blurred Lines," "Give It To You" featuring 2 Chainz and Kendrick Lamar.
Go behind the scenes of the making of Roc$stedy's latest single "9 to 5" produced by Aktive and recorded at The Skee Lodge in Hollywood, CA.