Lil Wayne releases his highly anticipated album, Free Weezy Album. With guest features from Jeezy, Wiz Khalifa, and more. His 11th LP Free Weezy Album is now exclusively on Tidal.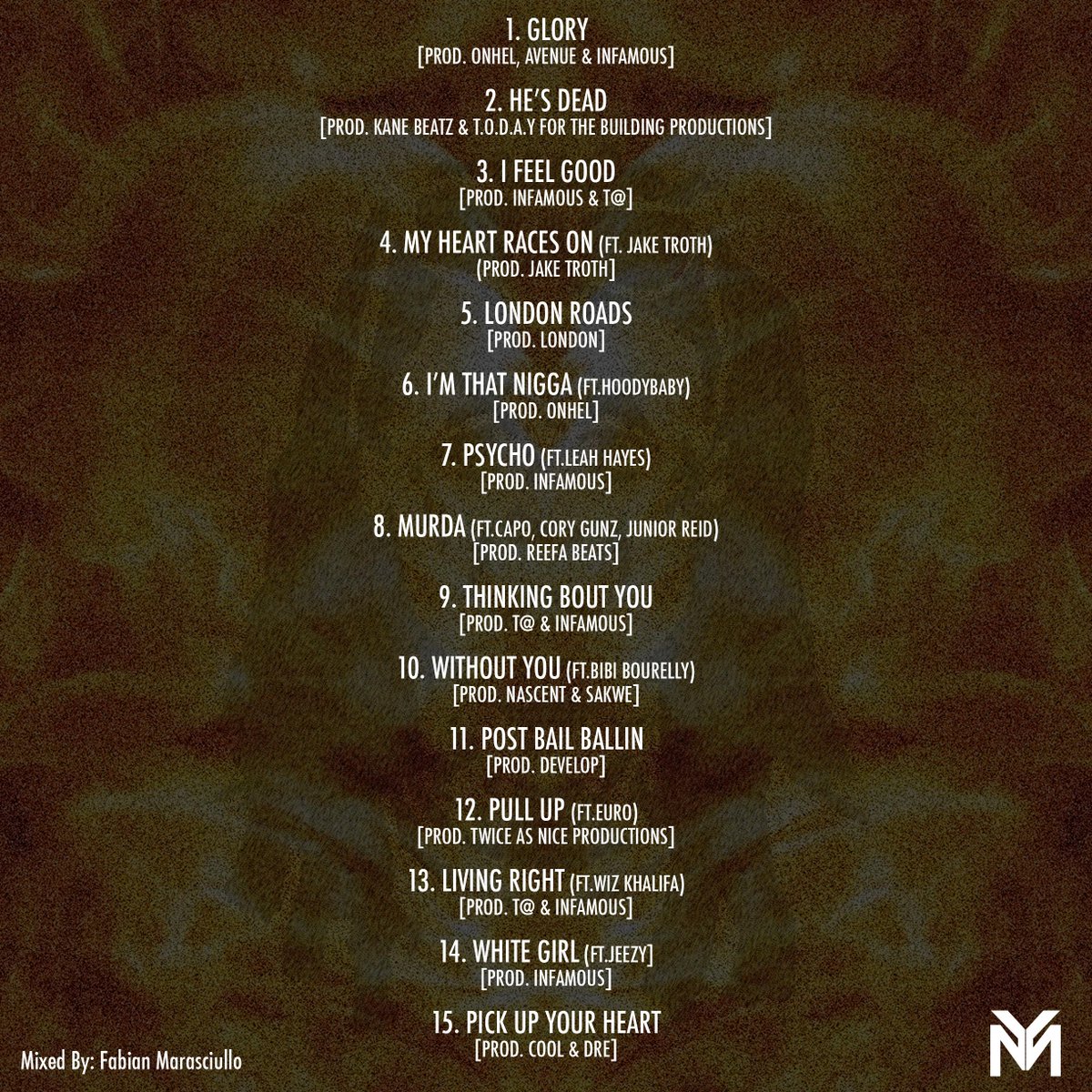 B.o.B. releases a new track and is already working on his next album. Let us know what you think!
Check out Bad Lucc's latest featuring Problem and a newcomer The Homegirl. Just remember, when there's a will there's a way! Let us know what you think.
Watch an excerpt of, Demrick's interview as he premieres two singles on the, Crisco Kidd Block Party show. He speaks on his collaboration with Berner and B-Real on their mixtape, Prohibition and being able to work with them on, "Xanax and Patron."   Demrick also drops a record featuring Dizzy Wright, "We Still Here"  leading up to, November 18th the release-date of his new project, Losing Focus. Let us know what you think!
Stay tuned for weekly interviews dropping by your very own, Crisco Kidd Block Party team!
Check out, Demrick's full interview below.
Watch an excerpt, of Young Scrap's interview with the Crisco Kidd Block Party. He discusses all the drama involved with his hit record, "Love LA" produced by DJ Mustard, causing a major deal to fall through. He also brings up a very familiar record DJ Mustard has produced, "LA Love" for recording artist Fergie. Then, Young Scrap doesn't miss out on a chance to freestyle and goes in! Let us know what you think.
Stay tuned for weekly interviews dropping by your very own, Crisco Kidd Block Party team!
Check out, Young Scrap's full interview below.
Whoop, here it is!
Now unmasked on the official cover, heart stealers Mack Wilds, August Alsina and Ed Sheeran represent for the future of R&B on VIBE's Summer 2014 Issue.
In a unique photo shoot experience, the three crooners with a hip-hop heart invited a few of their biggest fans down to a single-level house in Los Angeles to be featured in the spreads. Ed and August compared their colorful tattoo sleeves. Mack charmed the entire set. August sipped mimosa after mimosa between looks. Ed played Ty Dolla $ign's "Paranoid" on his guitar. Everyone turned up to Chris Brown's "Loyal" blasting from a car radio.
But beyond the images, these three rising stars are depicted with insightful profiles that tell their intricate stories and blueprints for success. VIBE Deputy Editor Clover Hope pens Mack Wilds' Shaolin-to-Hollywood-and-back trajectory. Music Editor John Kennedy explains Ed Sheeran's intense love affair with hip-hop, while VIBE Vixen Editor Shanel Odum tells August Alsina's hard knock life.
The three feature stories will hit newsstands in July, but in the meantime look out for the feature on Ed Sheeran, whose album drops today, on vibe.com 11:30 am. August Alsina and Mack Wilds follow at 12:30 pm and 1:30 pm, respectively.
Watch the behind-the-scenes video and read excerpts from the stories below:
"Where am I gonna survive in a world of 2 Chainz and Drake? Frank, Miguel and all of these guys. I remember coming across them and being like, 'Yo, bro, I got some music coming up.' And they're like, 'Okay, cool, how's that movie going?'" —Mack Wilds
"Just because I'm a man with an acoustic guitar doesn't mean I have to play love songs. I want to straddle all worlds at once. I want to do my acoustic stuff, write for the biggest pop acts in the world, and also work with all the rappers I like, underground or not." —Ed Sheeran
"Crack fucking ruined my family. So to be selling that shit and seeing what it do to people, you start to realize, 'Damn, my heart might be a little too big for this shit.'" —August Alsina
[DEF JAM]
BET has announced Chris Rock as the host for the 2014 BET Awards along with this year's nominees, making this the first time Rock hosts a music award show since hosting the MTV Video Music Awards in 2003.
As far as nominations, Jay-Z and Beyonce lead in nominations, with five each. Drake, Pharrell, Chris Brown and August Alsina earned a respectable three nominations each.
"This year's nominees represent the best of the culture," Stephen Hill, BET's President of Music Programming and Specials says in a press release, as per Billboard. "It's great to see our talented new artist's right alongside our more beloved ones with long careers. We appreciate our BET Awards nomination committee, over 300 strong, for their efforts and congratulate all the nominees."
The 2014 BET Awards is set to air live from Los Angeles, California's Nokia Theatre Sunday, June 29.
AND THE NOMINEES ARE:
Best Female R&B/Pop Artist
Beyoncé
Janelle Monáe
Jhené Aiko
K. Michelle
Rihanna
Tamar Braxton
Best Male R&B/Pop Artist
August Alsina
Chris Brown
John Legend
Justin Timberlake
Pharrell Williams
Best Group
A$AP Mob
Daft Punk
Macklemore & Ryan Lewis
TGT
Young Money
Best Collaboration
August Alsina f/ Trinidad Jame$ – I Luv This
Beyoncé f/ JAY Z – Drunk In Love
Drake f/ Majid Jordan – Hold On (We're Going Home)
JAY Z f/ Justin Timberlake – Holy Grail
Robin Thicke f/ T.I. & Pharrell Williams – Blurred Lines
YG f/ Jeezy & Rich Homie Quan – My Hitta
Best Male Hip Hop Artist
Drake
Future
J. Cole
JAY Z
Kendrick Lamar
Best Female Hip Hop Artist
Angel Haze
Charli Baltimore
Eve
Iggy Azalea
Nicki Minaj
Video of the Year
Beyoncé – Partition
Beyoncé f/ JAY Z – Drunk In Love
Chris Brown – Fine China
Drake – Worst Behavior
Pharrell Williams – Happy
Video Director of the Year
Benny Boom
Chris Brown
Colin Tilley
Director X
Hype Williams
Best New Artist
Ariana Grande
August Alsina
Mack Wilds
Rich Homie Quan
ScHoolboy Q
Best Gospel Artist
Donnie McClurkin
Erica Campbell
Hezekiah Walker
Tamela Mann
Tye Tribbett
Best Actress
Angela Bassett
Gabrielle Union
Kerry Washington
Lupita Nyong'o
Oprah Winfrey
Best Actor
Chiwetel Ejiofor
Forest Whitaker
Idris Elba
Kevin Hart
Michael B. Jordan
YoungStars Award
Gabrielle Douglas
Jacob Latimore
Jaden Smith
KeKe Palmer
Zendaya
Best Movie
12 Years a Slave
The Best Man Holiday
Fruitvale Station
Kevin Hart: Let Me Explain
Lee Daniels' The Butler
Centric Award
Aloe Blacc – The Man
Jennifer Hudson f/ T.I. – I Can't Describe (The Way I Feel)
Jhené Aiko – The Worst
LiV Warfield – Why Do You Lie?
Wale f/ Sam Dew – LoveHate Thing
[MTV]
Jay-Z, 44, is letting Drake have it in a new track entitled "We Made It." In the song Hove goes on to diss Drake by not even referring to him as a man. Drake managed to get under Jay's skin by dissing Hove's use of art references in his songs. We bet the "Too Much" rapper wished he'd kept those comments to himself.
Jay opened up about Drake's recent Rolling Stone comments concerning the use of art references in a verse on Jay Electronica's "We Made It" track.
"Sorry Mrs. Drizzy for so much art talk," Jay Z raps on the track. "Silly me, rap pin' 'bout s**t that I really bought — while these rappers rap about guns that they ain't shot — and a bunch of other silly s**t that they ain't got."
Jay Z's "Drizzy" reference stems from Drake's trade mark alias, a name dropped several times during his interview. In that interview, Drake openly criticizes Jay Z's references to art in his lyrics.
"It's like Hov can't drop bars these days without at least four art references," Drake says in the article. "I would love to collect [art] at some point, but I think the whole Rap/art world thing is getting kind of corny."
– Bryant Perkins
[SOURCE]
Tupac Shakur died on September 13, 1996. Christopher Wallace died on March 9, 1997. Almost two decades later the murders of both iconic Hip Hop stars still remain unsolved.
While police and investigative journalists have yet to concretely expose the people responsible for the deaths of 2Pac and Biggie, a new documentary has taken on the task of shedding a light on the complicated stories behind their killings.
Lloyd Lake, a former associate of Death Row's Marion "Suge" Knight, has launched a Kickstarter campaign to raise funds for the tell-all documentary about the Pac and Big murders. The goal of the film is "exposing the government turning a blind-eye to Suge Knight's involvement due to his role as a government informant."
Takashi Bufford (Set It Off, Booty Call) served as producer and director for the documentary. The movie will feature interviews with Reggie White, who is described as Tupac's bodyguard and Suge Knight's right-hand man, and lawyers familiar with the justice system's lack of interest in prosecuting anyone involved in the cases. It will also explore the idea of the government using informants to gather information on the Hip Hop community.
"The fact that 17 years has gone by without anyone being prosecuted and there are multiple related shootings and deaths connected with Tupac's murder for which no one has been charged, this forces us to look at the glaring fact that the legal system failed," states Lake. "It's my goal with this documentary to put not only those involved on trial but to reveal the shameful cover up and reveal the truth and facts in the case."
The documentary hopes to answer the following questions:
– What does the Government know about Tupac and Biggie murders?
– Why are there no prosecutions of the individuals involved in the Tupac and Biggie murders?
– Are there informants involved within the Government's investigation of the "Hip Hop" music industry?
– Is the Government disclosing the informants involvement in the prosecution of "Hip Hop" artist?
– Why are individuals with significant criminal convictions (strikes) still committing crimes and never prosecuted?
Lake is looking to raise $150,000 over the next 30 days. If the filmmakers are able to reach their goal in the allotted time, the documentary will be released to the public. Anyone who donates more than $25 will receive an advanced copy of the DVD. Other prizes are available as well including a signed copy of the film, a poster of Tupac and Biggie, and VIP invitations to the movie's premiere.
<iframe width="640″ height="380″ src="https://www.kickstarter.com/projects/134997186/justice-for-the-murders-of-tupac-and-biggie-true-s/widget/video.html" frameborder="0″ scrolling="no"> </iframe>
Pharrell Williams has announced the title of his new album… G I R L. When you pre-order G I R L at iTunes now you automatically receive "Happy" for free.
Pre-Order here