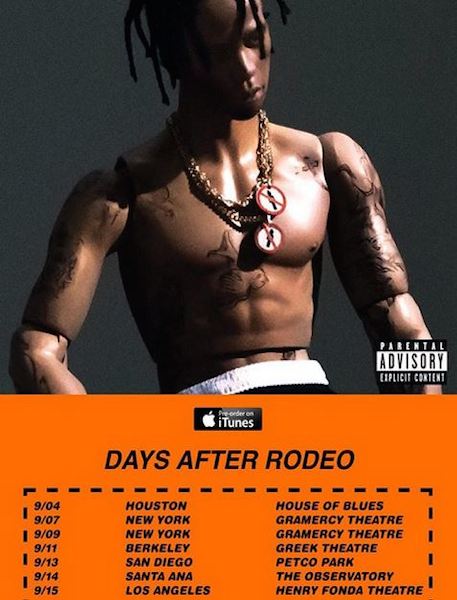 Travis Scott announces his seven-day tour. Due to take off on the release date of his highly anticipated album, Rodeo dropping September 4th. Travis Scott will be hitting a town near you, be sure to grab your tickets!
The Game takes it to his Instagram page to reveal the artwork for his highly anticipated album, Documentary 2. He explains the project's direction and gives fans the release date for the, Documentary 2. Read his Instagram post below.
To my true fans: it's been really dope to have you ridin' with me the last 10 years from the 1st Documentary til now…. I appreciate your loyalty & the patience you have displayed while waiting for me to finish #TheDocumentary2 & I am proud to give you my album cover shot by legend photographer & director @JonathanMannion (who also shot my 1st album cover) & graphic designer @CeoSelfmade for collaborating with Jonathan to bring such a classic image of me on the bridge in my hood….Cedar Block Piru in westside Compton, California… Everything about the photo shoot made me feel the exact same way I did when we were there 10 years ago & trust me when I say…. This album is better than my 1st for more than a few reasons….
But you don't have to take my word for it because you will see for yourself when it drops SEPTEMBER 25TH 2015 !!!! After Kendrick dropped his album, then Dr. Dre dropped #Compton then the movie doing 100 million after just 2 weeks….. This album will add to my cities continuous legacy !!!! I'm proud to be from #COMPTON & I wish #EazyE was alive to see us flourish yet again…… We on !!! This album cover represents the struggle to stay alive in a city where CRIPS & BLOODS have been at war since 1972 & it's because of you "THE FANS" I will again get to give you my documented accounts of life here in Los Angeles …. SEPTEMBER 25TH history will be made again #TheDocumentary2
The VMA Awards were handed out Sunday, hosted by Miley Cryus. In between her bold outfits, epic acceptance speech for the Video Vanguard Award from Kanye West, Nicki Minaj calling out Miley Cyrus and Justin Bieber emotional come back performance. Below is the list of the 2015 MTV Video Music Awards winners.
Best Rock Video: Fall Out Boy, "Uma Thurman"
Best Pop Video: Taylor Swift, "Blank Space"
Best Male Video: Mark Ronson featuring Bruno Mars, "Uptown Funk"
Best Hip-Hop Video: Nicki Minaj, "Anaconda"
Best Female Video: Taylor Swift, "Blank Space"
Best Video With a Social Message: Big Sean featuring Kanye West & John Legend, "One Man Can Change the World"
Song of the Summer: 5 Seconds of Summer, "She's Kinda Hot"
Best Collaboration: Taylor Swift ft. Kendrick Lamar, "Bad Blood"
Best Direction: Kendrick Lamar, "Alright" (Colin Tilley & the Little Homies)
Best Choreography: OK Go, "I Won't Let You Down" (OK Go, air:man and Mori Harano)
Best Cinematography: Flying Lotus feat. Kendrick Lamar, "Never Catch Me" (Larkin Sieple)
Best Art Direction: Snoop Dogg, "So Many Pros" (François Rousselet, Jason Fijal)
Best Editing: Beyoncé, "7/11" (Beyoncé, Ed Burke, Jonathan Wing)
Best Visual Effects: Skrillex and Diplo feat. Justin Bieber, "Where Are U Now" (Brewer, Gloria FX, and Max Chyzhevskyy)
Artist to Watch: Fetty Wap
Video of the Year: Taylor Swift featuring Kendrick Lamar, "Bad Blood"
Watch as Sprite follows Vince Staples around his hometown Long Beach, California. "Nothing matters but where you come from, " says Vince Staples in his Obey Your Thirst documentary, in powered by The FADER. "Without that, who are you?" Let us know what you think!
Check out as Wize Guys Comedy and Traversa Media present, "Boarderline" season 1. A comical take about the war on drugs like you never seen it before! Let us know what you think.
T.I. and Kap G were interviewed by Don Lemon last night on CNN. After releasing their controversial remix of Kap G's "La Polica" featuring T.I. They discussed police brutality, racial profiling and their encounters with the police. Clearly, T.I. has had more experience than most and assures he's opinion is heard! Watch the interview let us know what you think.
Remix of Kap G's "La Polica" featuring T.I. below.

North America better gear up. Nicki Minaj announces #ThePinkPrintTourUS to hit the overseas this summer. The line up includes Meek Mill, Rae Sremmurd, Tinashe and Dej Loaf. The dates are located below and tickets go on sale this Friday.
7/17/2015 – Dallas, TX @ Gexa Energy Pavilion
7/20/2015 – Miami, FL @ Bayfront Park & Amphitheater
7/22/2015 – Bristow, VA @ Jiffy Lube Live
7/24/2015 – Holmdel, NJ @ PNC Bank Arts Center
7/26/2015 – Brooklyn, NY @ Barclays Center
7/28/2015 – Toronto, ON @ Molson Canadian Amphitheatre
7/29/2015 – Montreal, QC @ Bell Centre
7/31/2015 – Clarkston, MI @ DTE Energy Music Theatre
8/2/2015 – Atlanta, GA @ Aaron's Amphitheatre At Lakewood
8/4/2015 – Charlotte, NC @ PNC Music Pavillion
8/6/2015 – Camden, NJ @ Susquehanna Bank Center
8/8/2015 – Burgettstown, PA @ First Niagara Pavilion
8/9/2015 – Tinley Park, IL @ First Midwest Bank Amphitheatre
8/11/2015 – Denver, CO @ Pepsi Center
8/13/2015 – Chula Vista, CA @ Sleep Train Amphitheatre
8/14/2015 – Concord, CA @ Concord Pavilion
8/16/2015 – Vancouver, BC @ Pepsi Live at Rogers Arena
8/18/2015 – Calgary, AB @ Scotiabank Saddledome
8/19/2015 – Edmonton, AB @ Rexall Place
The team at Nike really divested their creative ideals with the latest collection just in time for the 2015 NBA All-Star Game.  Key elements of New York's iconic architecture inspire the signature shoes of Nike Basketball's premier signature stars, including Kobe Bryant, Kevin Durant, Kyrie Irving and LeBron James.  Woven together with a clean, modern color palette and graphics, the shoes pull inspiration from technological advancements fitting each star athlete.
Lil Wayne is taking his war with Cash Money to court. After failing to come to an agreement this week, TMZ reports Wayne has filed an $8 million lawsuit against the label for the advance money for Tha Carter V and to free him from his contract. The saga continues. Let us know what you think!
Herchel Supply is the quintessential dry goods provider of premium bags, cases, wallets and more.  They offer a sneak peak at their Spring 2015 lookbook with this lifestyle video inspired by the mecca of Desert Modernism found in the sun-drenched city of Palm Springs.  Drawing from a regional approach to an international style of architecture, the color palette and diversity of the desert landscape is reflected across classic silhouettes and a new comprehensive Headwear offering.
Check back for the full lookbook to be available on January 22nd, 2015.