Hey movie fans. Check out the latest featurette – – it's for the upcoming film, ANGELS CREST. It stars Thomas Dekker (ladies seem to love him), Jeremy Piven, Mira Sorvino and more.
I'm sharing this with ya'll becuase – – it's not even been 2 months since I uploaded the original trailer to my YouTube channel and it's already gotten 14, 861 views. Talk about crazy! The movie's already available on iTunes but hits theaters on December 30, 2011.
Hmmmm…I just might have to watch it now. (LOL) Enjoy.
T.I. SAYS EMINEM HELPED WIRH HIS DRUG ADDICTION
According to Billboard.com, T.I. credits Eminem with helping him overcome his drug addiction. The rapper failed to admit his drug of choice but did reveal that his addiction began after he received medication for oral surgery. Tip stated, "I haven't had a chance to speak to Em since I've been home," He said. "I heard that while I was down, he was trying to get in contact with me, but I don't know if the dots just didn't connect. [Eminem] overcoming his own adversities, winning the battle against his own demons and continuing to break the mold and re-set the standard of what it means to be the most successful hip-hop artist in the game … I salute that to no end."
AND…
SNEAK PEEK OF T.I.'S FAMILY REALITY SHOW
We're all waiting patiently for T.I. to premiere his upcoming VH1 reality series, T.I. & Tiny: The Family Hustle. In the lengthy teaser for the show, Tip returns home from his prison stint, balances being a dad to six kids and treats his wife to a romantic dinner. T.I. stated, "I got a million and one reasons to be out doing what I do professionally, but the most important thing to me in the world is family. I can't make one single mistake. Family is priority number one." Be sure to catch the series premiere on December 5th at 9 PM ET on VH1.
NEXT WATCH THE THRONE SINGLE ANNOUNCED
HipHop-N-More.com reports the next single off Jay-Z and Kanye West's Watch The Throne LP will be The Neptunes-produced cut, "Gotta Have It." Fans can expect the follow-up to "N***as In Paris" to officially impact radio December 6th. The rap duo is currently on their massive Watch The Throne tour. Here's the remaining tour stops:
12-01 Chicago, IL – United Center
12-05 Houston, TX – Toyota Center
12-06 Dallas, TX – American Airlines Center
12-09 Las Vegas, NV – MGM Grand Garden Arena
12-10 San Jose, CA – HP Pavilion
12-12 Los Angeles, CA – Staples Center
12-18 Vancouver, British Columbia – Rogers Arena
CHECK OUT ALBUM SNIPPETS FOR SNOOP, WIZ KHALIFA LP 
Before Snoop Dogg and Wiz Khalifa release the upcoming soundtrack to their stoner comedy Mac and Devin Go to High School, fans can stream lengthy snippets from the project. The disc, which includes collaborations from Juicy J, Mike Posner and Bruno Mars, will be available on December 13th and can be pre-ordered now via iTunes. Head over to Rap-Up.com to check out the 90-second previews or GET ALL 21 MINUTES BELOW!
· There is no release date for the actual film, Mac and Devin Go to High School.
LIL WAYNE, EMINEM PREP JOINT TOUR
According to his official Facebook page, Lil Wayne has announced that he plans to tour with Eminem after he wraps his I Am Still Music outing. Wayne has not revealed any dates for the highly anticipated trek with Slim Shady, but the duo is scheduled to touch down in Fiji, Australia and South Africa. We will keep you posted as more information becomes available.
· Are you excited for the tour? Would you travel overseas to see them perform?
DIDDY'S SON ACCEPTED INTO UCLA 
According to RapRadar.com, Diddy is proud to announce that his eldest son, Justin Combs, has reportedly accepted a full scholarship to play football for UCLA. The mogul expressed his joy in the following statement, "As a parent, today is one of the proudest moments of my life. This is everything a father could want for his son, for him to excel at what he loves to do and is truly passionate about. Justin is a shining example of what hard work, determination and a strong mentality can achieve. I am honored to call him my son and am happy that he is fulfilling his dream."
USHER AND EX WIFE FIGHT OVER CUSTODY 
Things between Usher and his ex-wife, Tameka Raymond, are not looking good. The mother of his two kids claims the crooner has failed to follow his legal obligations, when it comes to sharing joint custody of their sons. TMZ reports Tameka has filed documents requesting that a judge no longer allow Usher to have joint physical custody. In addition, she is seeking more money for child suppor,t since there's allegedly been a "substantial change in [Usher's] income" since they got divorced. We'll keep you posted.
 MARY J BLIGE TALKS BEYONCE DUET
During an interview with Billboard.com, Mary J. Blige spoke about her first time collaborating with Beyonce for her latest album, My Life II … The Journey Continues (Act I). On a record called "Love A Woman," MJB explained how the duet came together. Since the track was originally recorded for Beyonce's recent album, Mary explained, "She had her A&R people play the record for us. I'm sitting in the back thinking, 'Is she really going to give me this record? That's crazy! It's amazing,'" Blige recalled. "I asked her A&R person and he said, 'Yes, she wants you to have the record, but she wants to stay on it with you.' I loved that idea and I'm thankful. I thank Beyoncé for the record." Be sure to pick up My Life II … The Journey Continues (Act I), available in stores now.
ROBIN THICKE'S ALBUM SNIPPETS ARE AVAILABLE
Before Robin Thicke drops his highly anticipated album, Love After War, fans can now check out snippets from the fifth studio effort. The disc only has one guest feature, from Lil Wayne, and the 15-track project can be previewed via his official website or by clicking the image above. In addition, Love After War lands on December 6th.
· Robin dedicates "Lovely Lady" to his wife Paula Patton.
DAY26 LAUNCHES NEW ONLINE REALITY SHOW
In case you were wondering what's going on with Day26 these days, the R&B group are rebuilding and working on new material. This after they parted ways with their former member, Que. In their new online series, you can watch Willie, Brian, Mike, and Robert start to record their upcoming album, titled A New Day, which will be released early next year. Head over to their official website to catch up on the band.
· The group is still signed with Atlantic Records, but they are no longer attached to Diddy's Bad Boy imprint.
BIEBER NOT PERFORMING LIVE AT ROCKEFELLER!
Justin Bieber was rumored to be performing live at the Rockefeller Center lighting ceremony, but CBSLocal.com reports it will be a pre-taped performance. The ceremony is set on the same night President Barack Obama will be in town and the NYC Department of Transportation has issued gridlock and detour warnings.
 Yeahhhhhhhh…I'm going to start off by saying that PARANORMAL ACTIVITY 3 was a total let down for me. I really thought that this one was going be the holy grail of all three films. But nope. Not cool movie people. See, when the movie people released the first trailer…it didn't show that much of the goods (which I liked)…but you still got the point of what the movie was about…then they released the 2nd trailer (ABOVE)…and as soon as I saw that one…I was like…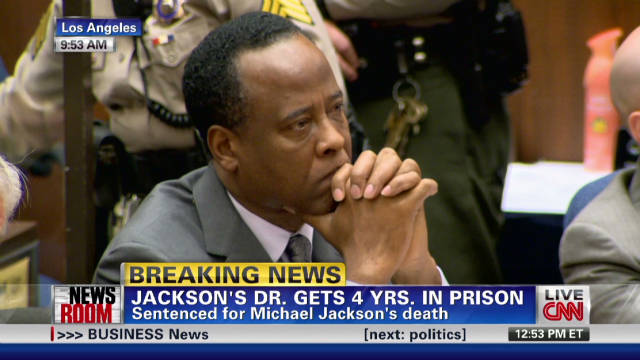 A judge has given Doctor Conrad Murray the maximum sentence, of four years in prison, for his conviction in the involuntary manslaughter of Michael Jackson. However, a new law in California, will actually prevent Murray from serving time in prison.  Instead, he'll end up staying in the Los Angeles County Jail for, at most, only two years of his sentence. Judge Michael Pastor also ruled that Conrad must pay an 800 dollar fine. Head to TMZ.com for more.
·       Do you think Murray deserved four years?
·       Do you think Murray deserves to only serve half of his sentence in a jail cell?
ATROCIOUS…what do I say about this one. Well, as soon as I saw the trailer – I was like, "This doesn't look bad. It might be another run with the camera in the hand movie…but it looks promising." The movie's directed by Fernando Barreda Luna…I'm not really familiar with his other work (sorry dude)…well…it starts off with some cops – – finding a family that's been brutally murdered. Do they have clues? Fingerprints? Anything? Well, yes they do – – how about 37 hours of videotape!! Yep – 37 hours.
Thank you to ALL who check out the blog on the daily and LIKE, COMMENT AND SHARE our posts! Thank you for your support and a big thank you to the staff and contributors to the Crisco Kidd Block Party!
DRAKE RESPONDS TO LUDACRIS' DISS
The Ludacris dissing Drake and Big Sean story just won't go away. In case you missed it, the rap vet took aim at the young stars on a recently released track called "Badaboom" for taking credit and stealing his "Supa Dupa" rap flow. For the first time, Drizzy has responded via Twitter and wrote, "@BigSean You already know. I wish they'd just let young n***as live…respect always." The news comes just a week after Sean told media outlets that he has nothing against Luda and refers to him as a "legend."
LIL WAYNE SAYS DRAKE'S ALBUM SALES DON'T MATTER 
After Drake released his latest album, Take Care, all people seemed to care about was if the Young Money star would put up big first week numbers. Lil Wayne told MTV News why album sales are not that important. Weezy stated, "As far as expectations, we don't have those around here. Expectations are a weakness in the music business because if you expect anything, 10 times out of 10 it's not gonna happen, so we don't have expectations around here." He added that the entire team works "very hard and we expect people to respect our hard work and our effort." Despite the disc being leaked, Take Care is on pace to sell over 700-thousand copies and debut at number one on the Billboard 200 chart.
YOUNG JEEZY TALKS WORKING WITH JAY-Z, ANDRE 3000
During an interview with XXLMag.com, Young Jeezy revealed what it was like recording an album that includes guest features from Jay-Z and Andre 3000. The Snowman stated, "I grew up watchin' these cats [so] to align myself with them to have a great record, to me, was showing that, 'OK I'm here to stay.' I'ma surround myself with some people that are legends 'cause that's only gonna mean one thing, that when it's all said and done, I'm gonna be a legend as well." The track is lifted from Jeezy's long-awaited album, TM:103 Hustlerz Ambition, which arrives on December 20th via Def Jam Recordings.
ROBIN THICKE ISSUES "LOVE AFTER WAR" VIDEO 
For the second time, Paula Patton stars in a music video for her husband, Robin Thicke. The happily married couple flirts and teases each other in the visual for the singer's new single, "Love After War." You can check out the Hype Williams-directed video now via Robin's official website.
· The first video Paula starred in was the ballad "Lost Without U."
EMINEM INTERVIEWS YELAWOLF ON TWITTER
With Yelawolf recently issuing his debut album, Radioactive, Eminem actually interviewed the rap newcomer about his Shady Records release on Twitter. Marshall asked how he came up with the title and Yela responded with, "It's the fall out to my journey so far. The #Radioactive material that came after the war and the uphill battle to get here. My science experiment gone right." The rappers talked about favorite superheroes, favorites tracks from the album and more. Visit HipHop-N-More.com to read the full interview now.
CHECK OUT T.I.'S NEW SONG "PYRO"
T.I. recently announced that his next studio album will be titled Trouble Man. To get fans excited about the project, Tip just released the first single, which is called "Pyro." He told Billboard.com, "'Pyro' is a straight party record. It's nostalgic of those crazy nights, early mornings [but] just turned up." Check it out now:
· This marks the rapper's eighth studio album.
NICKI MINAJ EYES EARLY 2012 RELEASE
During an interview with Billboard.com, Birdman spilled new details on when fans can expect to hear Nicki Minaj's sophomore album. Baby stated, "Nicki is back in the studio, so we're looking to drop Nicki in the first quarter." As for when fans will be able to hear the first single, he revealed, "We're looking real soon, because she's ready to go and we're ready to go with her." There you have it, the follow-up to her platinum debut Pink Friday will be available early 2012.
GO BEHIND THE SCENES FOR BEYONCE'S "PARTY"
We all know Beyonce shot the video to her hit single, "Party," but now fans can take a sneak peek at the video shoot. Bey said of the clip, which was shot in New Jersey and includes no choreography, that she liked shooting the video because there's "no pressure." Beyonce explained, "All I have to do is party and have a good time." The visual includes cameos from J. Cole, Solange, Kelly Rowland and Theophilus London. Head to her official website to watch the behind the scenes video now.
· B's stylist said the inspiration is "trailer trash, ghetto fabulous, out there, edgy."
ASHER ROTH REACTS TO SIGNING TO DEF JAM
According to XXLMag.com, Asher Roth has officially found a new label home at Def Jam Recordings. The "I Love College" rapper has said in a statement, "Def Jam is a great place to call home. I'm excited to get back to the basics with good, honest music." The Philly native is working on his sophomore album, Is This Too Orange?, which is slated to arrive next spring.
·  Asher was previously signed to SRC/Universal Motown.
LIL WAYNE DONTATES TURKEYS
Lil Wayne has given back to his hometown of New Orleans by handing out free turkeys to people in old neighborhood. With Thanksgiving right around the corner, the timing couldn't be better. Even though it's an annual Cash Money tradition, Weezy told MTV News, "It's actually been my first time back here for the past eight or nine years, and they've been doing this for 15 years." Luckily Wayne found time in his schedule to personally hand out turkeys and says, "Now it's a totally different feeling, because I can actually give you that and say, 'Here, happy Thanksgiving.' I can do that, and I can provide that for you." Head over to MTV.com for more.
HOW WILL.I.AM GOT MICK JAGGER TO RECORD WITH HIM 
Will.i.am explained to Rolling Stone backstage at the American Music Awards how he recently got Mick Jagger to work with him. The Rolling Stones frontman is featured on the track "T.H.E. (The Hardest Ever)" off will's album #willpower. Will says, "You play your music and the first thing someone says, 'Who's gonna be on it? So I think of the hardest thing ever. And it happened, Mick Jagger." The Black Eyed Peas man explained that Interscope chairman Jimmy Iovine, who always wanted to work with Jagger, made the collaboration happen, and even decided to produce the track. #willpower is out next year.
NEW PERFORMERS ADDED TO VH1 DIVAS
We've just learned that Chaka Khan, Erykah Badu, Sharon Jones & the Dap-Kings, Boyz II Men, Estelle, Marsha Ambrosius and Travie McCoy have all been added to the list of performers who'll take the stage at the upcoming show, VH1 Divas Celebrates Soul. The new acts will join previously confirmed headlining divas including Mary J. Blige, Kelly Clarkson, Florence + The Machine, Jennifer Hudson, Jessie J. and Jill Scott. Taking place inside New York City's Hammerstein Ballroom, VH1 Divas Celebrates Soul premieres on Monday, December 19th at 9 PM on VH1.
· The new group of performers will pay tribute to cities of soul music including Chicago, Detroit, London, Memphis and Philadelphia.
DRAKE BEGINS THIRD STUDIO ALBUM
According to HipHopDX.com, Drake has reportedly begun recording the follow-up to his sophomore effort, Take Care. Even though his latest disc was released a week ago, Drizzy revealed, "I started writing the intro to my project last night." He added, "I found the sample and I started piecing together the story of where I'm at in my life." The news comes after first week projections put Take Care at number one on the Billboard 200 chart with estimated sales of over 700-thousand copies.
T.I. ANNOUNCES ALBUM TITLE
According to Billboard.com, T.I. has announced that his next studio album will be titled Trouble Man. In addition, the follow-up to last year's No Mercy will have a party theme and the first single is called "Pyro." Tip said of the disc, "A lot of times I'm taking myself out of my element." He added, "This is the first project where I'm talking about things that I've experienced before that I'm not necessarily experiencing now because I'm not doing a whole lot of partying. I do a little bit but not a lot… nothing like when I was in that life." No word on when we'll hear the first track, we'll keep you posted.
· This marks the rapper's eighth studio album.
KELLY ROWLAND TO REUNITE WITH HER FATHER
According to U-K's The Sun, Kelly Rowland has revealed plans to reunite with her estranged father, Christopher Rowland, next month. The former Destiny's Child singer is going to meet up with her dad on Christmas day and explained, "It's really important just to forgive my father… because tomorrow is not promised to us." She added, "It's important to forgive people and we move on, we have to…the pain is there, of course it will be there, and it's important to know that forgiveness is the first step towards healing." As previously reported, Kelly's dad walked out of her life 20 years ago.
MOBB DEEP DROP NEW VIDEO OFF EP 
According to AllHipHop.com, Mobb Deep recently premiered the video for their new offering, "Dead Man Shoes." You can watch the gritty visual via their official website now. The cut is lifted from the rap duo's much-talked-about EP, Black Cocaine, which is available in stores now.
RIHANNA CAUSES STIR OVERSEAS
Rihanna accepted the American Music Award for Favorite R&B/Soul Album for Loud from the U-K on Sunday night. She is on tour overseas and recently caused some controversy when performing on The X Factor in England. For her performance, she wore a plaid dress and clunky punk shoes with writing scrawled all over them, and one phrase on the footwear had some people up in arms. According to The Telegraph, the words "F*** Off" were written on RiRi's shoes. While the offensive statement may have left audiences a bit shocked, a spokesperson for the show played down the controversy. They showed no close ups of her shoes on the telecast. In other Rihanna news, her video for "We Found Love" has been banned from being played before 10 PM in France. The officials at the Supreme Audiovisual Council of France have deemed the video, which includes drug use, sex and domestic violence, inappropriate for viewing before that hour. Rihanna released her Talk That Talk album on Monday.
JUSTIN BIEBER AND JADEN SMITH RELEASE NEW COLLABO
According to the New York Post, Justin Bieber and Jaden Smith have released a new duet, a cover of "Thinking About You" by Frank Ocean. Smith raps on the track while Bieber lends his vocals to the R&B tune. Bieber and Smith released their first musical collaboration, "Never Say Never," in 2010. It was the theme song for The Karate Kid remake, starring Smith.
Friday night at the Roxy was pretty freakin' awesome. Good energy in the club…music was poppin' and of course…the ROCK YA 'BOOTY' CONTEST! Yep…we do it every Friday night. Shoutouts to all my contestants…see ya next weekend!
Hey HOUSTON movie fans!! I've been waiting for this one…Jonah Hill in…THE SITTER. Who's down to laugh?! BYAHAHAHAHAHAHAHA!
THE SITTER is a new level of twisted and debauched hilarity from the director of PINEAPPLE EXPRESS and I've got the movie passes for you!!
– — — — — — — — — — — — — — — — — — — — — — — — — — — — — — –
Enter-to-win by "LIKING" my Facebook Fan Page (http://facebook.com/iwatchmike) 
Following me on Twitter @mikethemovieguy 
THEN email me your FIRST & LAST NAME & CITY to mikethemovieguy@gmail.com for tickets.
– — — — — — — — — — — — — — — — — — — — — — — — — — — –
THE SITTER

Tuesday, December 6
Edwards Marq*E Stadium 23
7600 Katy Freeway
Houston, TX
7:00PM
— — — — — — — — — — — — — — — — — — — — — — — — — — — — — — — — — –
You must be 17 years of age or older to be eligible to win. No purchase is necessary to enter or win. The contest begins November 21, 2011 & ends December 6, 2011 at noon or when the passes run out. Giveaway/contest is open to US Residents only.
OPENS NATIONWIDE ON DECEMBER 9.