Hey movie fans. Check out the latest featurette – – it's for the upcoming film, ANGELS CREST. It stars Thomas Dekker (ladies seem to love him), Jeremy Piven, Mira Sorvino and more.
I'm sharing this with ya'll becuase – – it's not even been 2 months since I uploaded the original trailer to my YouTube channel and it's already gotten 14, 861 views. Talk about crazy! The movie's already available on iTunes but hits theaters on December 30, 2011.
Hmmmm…I just might have to watch it now. (LOL) Enjoy.
T.I. SAYS EMINEM HELPED WIRH HIS DRUG ADDICTION
According to Billboard.com, T.I. credits Eminem with helping him overcome his drug addiction. The rapper failed to admit his drug of choice but did reveal that his addiction began after he received medication for oral surgery. Tip stated, "I haven't had a chance to speak to Em since I've been home," He said. "I heard that while I was down, he was trying to get in contact with me, but I don't know if the dots just didn't connect. [Eminem] overcoming his own adversities, winning the battle against his own demons and continuing to break the mold and re-set the standard of what it means to be the most successful hip-hop artist in the game … I salute that to no end."
AND…
SNEAK PEEK OF T.I.'S FAMILY REALITY SHOW
We're all waiting patiently for T.I. to premiere his upcoming VH1 reality series, T.I. & Tiny: The Family Hustle. In the lengthy teaser for the show, Tip returns home from his prison stint, balances being a dad to six kids and treats his wife to a romantic dinner. T.I. stated, "I got a million and one reasons to be out doing what I do professionally, but the most important thing to me in the world is family. I can't make one single mistake. Family is priority number one." Be sure to catch the series premiere on December 5th at 9 PM ET on VH1.
NEXT WATCH THE THRONE SINGLE ANNOUNCED
HipHop-N-More.com reports the next single off Jay-Z and Kanye West's Watch The Throne LP will be The Neptunes-produced cut, "Gotta Have It." Fans can expect the follow-up to "N***as In Paris" to officially impact radio December 6th. The rap duo is currently on their massive Watch The Throne tour. Here's the remaining tour stops:
12-01 Chicago, IL – United Center
12-05 Houston, TX – Toyota Center
12-06 Dallas, TX – American Airlines Center
12-09 Las Vegas, NV – MGM Grand Garden Arena
12-10 San Jose, CA – HP Pavilion
12-12 Los Angeles, CA – Staples Center
12-18 Vancouver, British Columbia – Rogers Arena
CHECK OUT ALBUM SNIPPETS FOR SNOOP, WIZ KHALIFA LP 
Before Snoop Dogg and Wiz Khalifa release the upcoming soundtrack to their stoner comedy Mac and Devin Go to High School, fans can stream lengthy snippets from the project. The disc, which includes collaborations from Juicy J, Mike Posner and Bruno Mars, will be available on December 13th and can be pre-ordered now via iTunes. Head over to Rap-Up.com to check out the 90-second previews or GET ALL 21 MINUTES BELOW!
· There is no release date for the actual film, Mac and Devin Go to High School.
LIL WAYNE, EMINEM PREP JOINT TOUR
According to his official Facebook page, Lil Wayne has announced that he plans to tour with Eminem after he wraps his I Am Still Music outing. Wayne has not revealed any dates for the highly anticipated trek with Slim Shady, but the duo is scheduled to touch down in Fiji, Australia and South Africa. We will keep you posted as more information becomes available.
· Are you excited for the tour? Would you travel overseas to see them perform?
DIDDY'S SON ACCEPTED INTO UCLA 
According to RapRadar.com, Diddy is proud to announce that his eldest son, Justin Combs, has reportedly accepted a full scholarship to play football for UCLA. The mogul expressed his joy in the following statement, "As a parent, today is one of the proudest moments of my life. This is everything a father could want for his son, for him to excel at what he loves to do and is truly passionate about. Justin is a shining example of what hard work, determination and a strong mentality can achieve. I am honored to call him my son and am happy that he is fulfilling his dream."
USHER AND EX WIFE FIGHT OVER CUSTODY 
Things between Usher and his ex-wife, Tameka Raymond, are not looking good. The mother of his two kids claims the crooner has failed to follow his legal obligations, when it comes to sharing joint custody of their sons. TMZ reports Tameka has filed documents requesting that a judge no longer allow Usher to have joint physical custody. In addition, she is seeking more money for child suppor,t since there's allegedly been a "substantial change in [Usher's] income" since they got divorced. We'll keep you posted.
 MARY J BLIGE TALKS BEYONCE DUET
During an interview with Billboard.com, Mary J. Blige spoke about her first time collaborating with Beyonce for her latest album, My Life II … The Journey Continues (Act I). On a record called "Love A Woman," MJB explained how the duet came together. Since the track was originally recorded for Beyonce's recent album, Mary explained, "She had her A&R people play the record for us. I'm sitting in the back thinking, 'Is she really going to give me this record? That's crazy! It's amazing,'" Blige recalled. "I asked her A&R person and he said, 'Yes, she wants you to have the record, but she wants to stay on it with you.' I loved that idea and I'm thankful. I thank Beyoncé for the record." Be sure to pick up My Life II … The Journey Continues (Act I), available in stores now.
ROBIN THICKE'S ALBUM SNIPPETS ARE AVAILABLE
Before Robin Thicke drops his highly anticipated album, Love After War, fans can now check out snippets from the fifth studio effort. The disc only has one guest feature, from Lil Wayne, and the 15-track project can be previewed via his official website or by clicking the image above. In addition, Love After War lands on December 6th.
· Robin dedicates "Lovely Lady" to his wife Paula Patton.
DAY26 LAUNCHES NEW ONLINE REALITY SHOW
In case you were wondering what's going on with Day26 these days, the R&B group are rebuilding and working on new material. This after they parted ways with their former member, Que. In their new online series, you can watch Willie, Brian, Mike, and Robert start to record their upcoming album, titled A New Day, which will be released early next year. Head over to their official website to catch up on the band.
· The group is still signed with Atlantic Records, but they are no longer attached to Diddy's Bad Boy imprint.
BIEBER NOT PERFORMING LIVE AT ROCKEFELLER!
Justin Bieber was rumored to be performing live at the Rockefeller Center lighting ceremony, but CBSLocal.com reports it will be a pre-taped performance. The ceremony is set on the same night President Barack Obama will be in town and the NYC Department of Transportation has issued gridlock and detour warnings.
 Yeahhhhhhhh…I'm going to start off by saying that PARANORMAL ACTIVITY 3 was a total let down for me. I really thought that this one was going be the holy grail of all three films. But nope. Not cool movie people. See, when the movie people released the first trailer…it didn't show that much of the goods (which I liked)…but you still got the point of what the movie was about…then they released the 2nd trailer (ABOVE)…and as soon as I saw that one…I was like…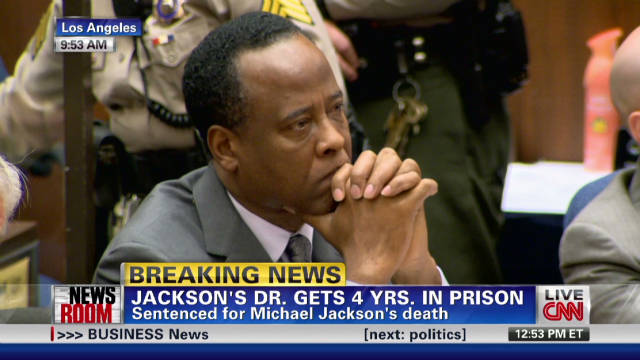 A judge has given Doctor Conrad Murray the maximum sentence, of four years in prison, for his conviction in the involuntary manslaughter of Michael Jackson. However, a new law in California, will actually prevent Murray from serving time in prison.  Instead, he'll end up staying in the Los Angeles County Jail for, at most, only two years of his sentence. Judge Michael Pastor also ruled that Conrad must pay an 800 dollar fine. Head to TMZ.com for more.
·       Do you think Murray deserved four years?
·       Do you think Murray deserves to only serve half of his sentence in a jail cell?
ATROCIOUS…what do I say about this one. Well, as soon as I saw the trailer – I was like, "This doesn't look bad. It might be another run with the camera in the hand movie…but it looks promising." The movie's directed by Fernando Barreda Luna…I'm not really familiar with his other work (sorry dude)…well…it starts off with some cops – – finding a family that's been brutally murdered. Do they have clues? Fingerprints? Anything? Well, yes they do – – how about 37 hours of videotape!! Yep – 37 hours.
Thank you to ALL who check out the blog on the daily and LIKE, COMMENT AND SHARE our posts! Thank you for your support and a big thank you to the staff and contributors to the Crisco Kidd Block Party!